Energy balls are a super easy, great little snack. They require very few ingredients and don't require a lot of time or waiting around. You don't need to bake them and they are very allergy friendly.
This energy ball recipe is completely gluten-free, nut-free and doesn't require oats.
You can make them as sweet or healthy as you like and they store really well in the freezer for those times you need an emergency stash of gluten free, nut free snacks.
They appear to look like chocolate, so feel free to call them 'Chocolate Balls' for fussy little eaters - It's amazing how kids react to the names we call foods and if they're willing to even try them 🙂
Really, the only downside of this recipe, is the coconut that seems to make it's way all over the kitchen!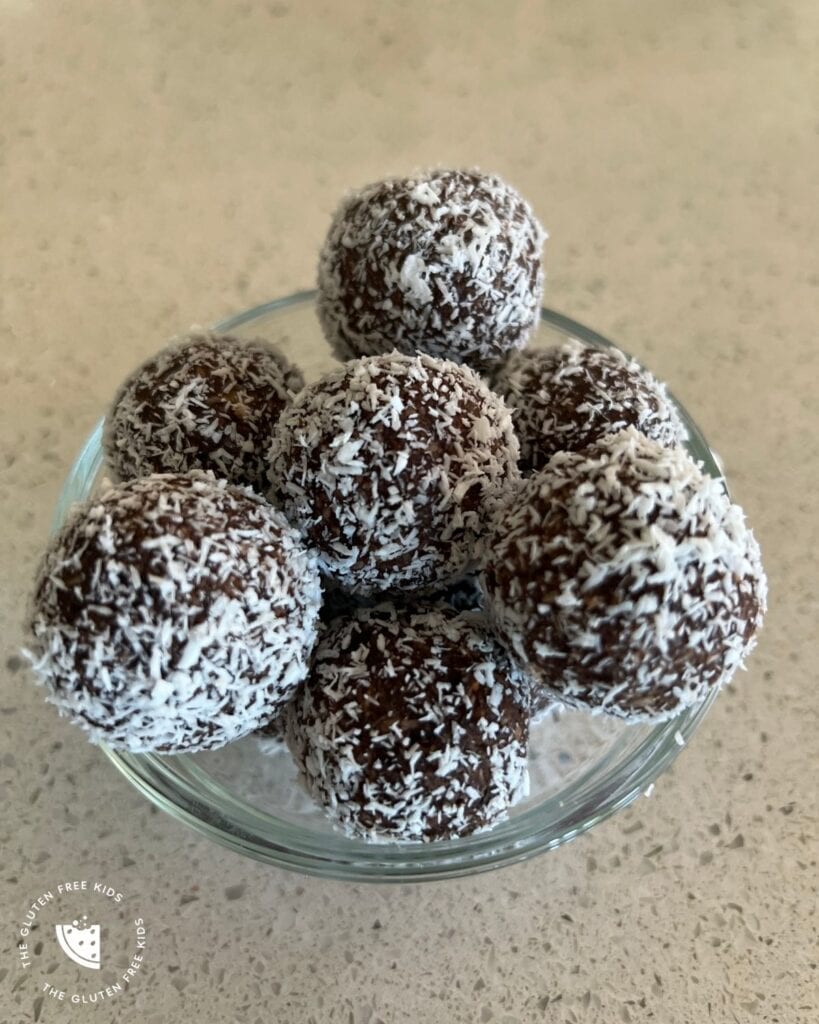 Ingredients To Make These Energy Balls GF & NF
This recipe only requires 5 simple ingredients:
Dates: I use the medjool dates, but you can certainly use dried dates if that's all you have. Just be sure to make sure that your dates have been pitted before placing them in the food processor 🙂
Cocoa: simple cocoa powder is great for this recipe to make them appear more 'chocolatey' than they really are. You can substitute this for cacao powder if you prefer.
Desiccated Coconut: this is what I use, but you can use shredded coconut or coconut flakes if you prefer. It all gets processed together anyway. I do prefer desiccated coconut for the rolling at the end though. It's personal choice though.
Vanilla: this provides a little flavour and a little liquid to the mix which helps with binding. You can use vanilla paste though and this works just as well.
Coconut oil: this helps to not only add flavour, but also helps to bind the mixture which helps with the rolling process.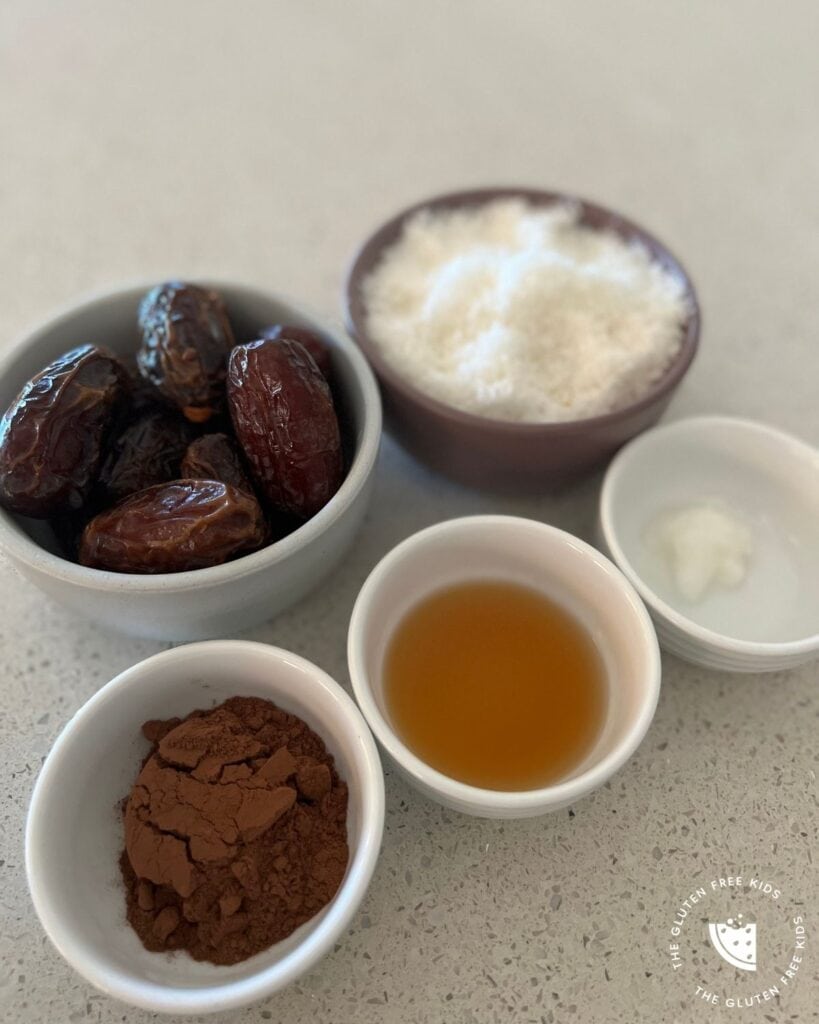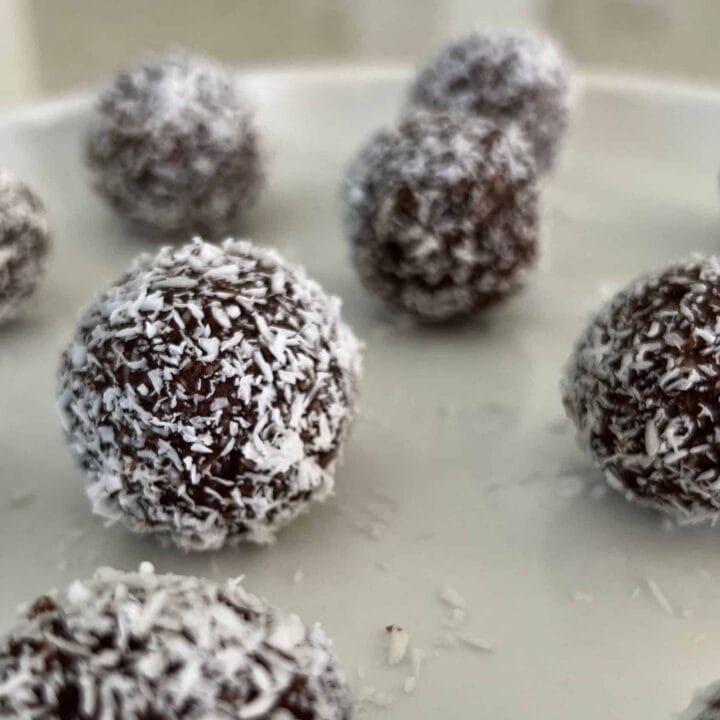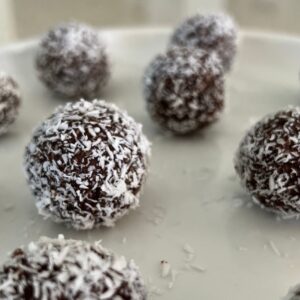 Energy Balls - Gluten Free, Nut Free & Without Oats
These energy balls are a hit with young and old. They are quick to make and are perfect for snacks, lunchboxes or after school treats.
Ingredients
1

cup

Medjool dates, pitted

1

cup

desiccated/shredded coconut

1

tablespoon

cocoa

1

tablespoon

vanilla

1

teaspoon

coconut oil

extra desiccated/shredded coconut for rolling
Instructions
Blitz all the ingredients in a food processor until the mixture resembles a crumb-like texture.

Using a tablespoon, scoop the mixture and roll into a ball. Then roll the ball into the extra coconut. Repeat for all 12 balls.

Whilst they can be eaten straight away, it's best to allow them to set by placing in the fridge or freezer before serving.
Notes
Recipe can be doubled or tripled if you want to make some for the freezer.
If your mixture is too dry, try adding a little more coconut oil (not too much!) and use wet hands to roll the balls out.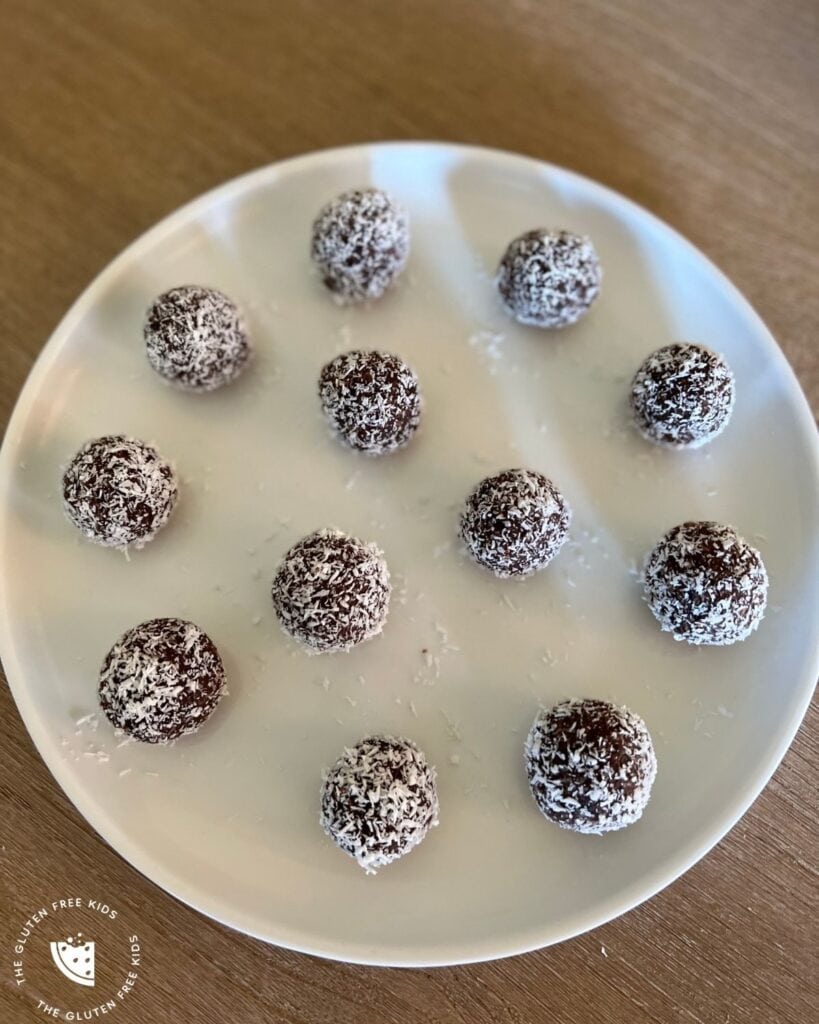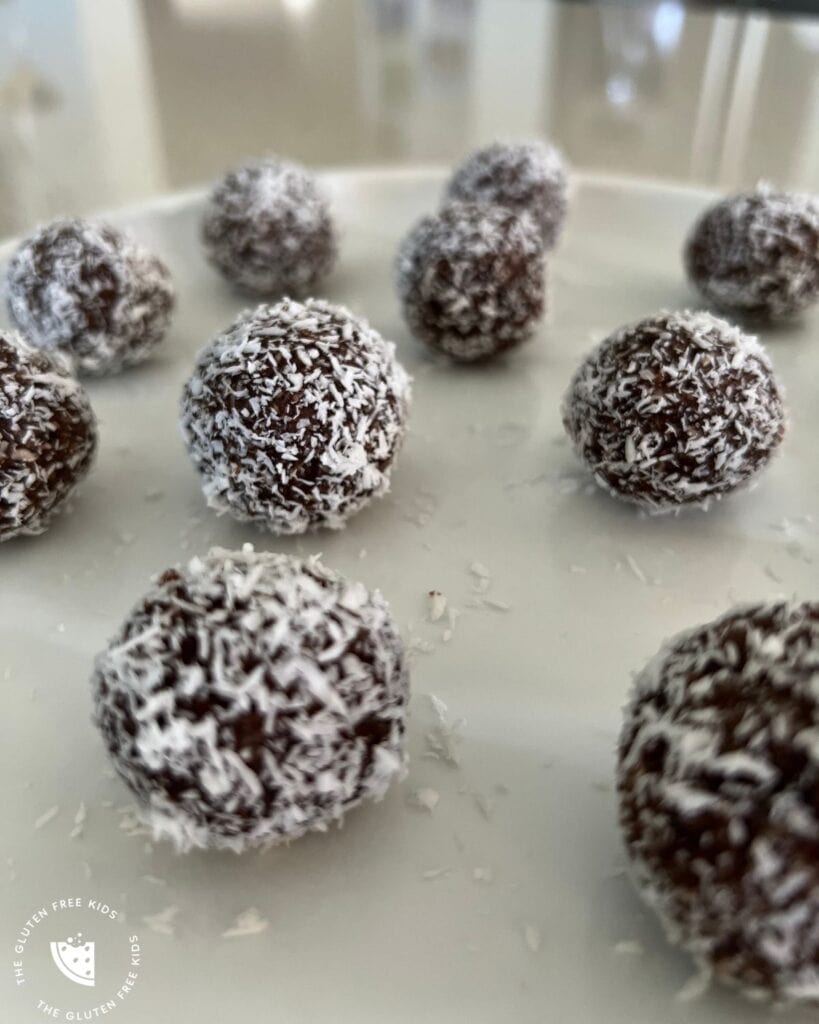 Looking for more gluten-free snack ideas? Be sure to check out:
Did you try this recipe?
Let us know in the comments!