Don't let the ease of this gluten-free zucchini slice fool you. It's a perfect little recipe to keep up your sleeve.
Packed with vegetables, it can be on the table within 40 minutes and it's just as tasty eaten cold for lunches, breakfast on the go or a nutritious snack.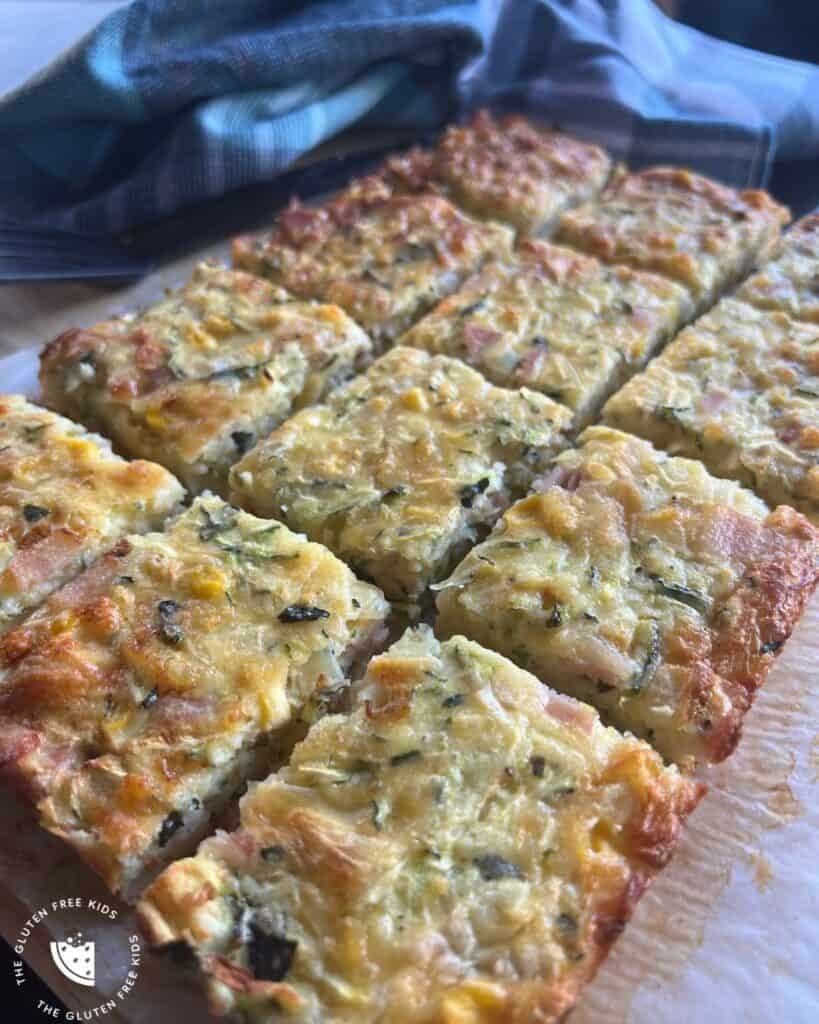 What can zucchini slice be used for?
This versatile and extremely forgiving zucchini slice recipe can be used for:
lunch boxes
breakfast on the go
after school snacks
a light dinner with salad
freezing for later
a savoury 'take a plate of food' to work/meeting/morning tea etc.
Zucchini Slice Ingredients
Many zucchini slices tend to use gluten flours and milk. This one doesn't. Here's what we use instead:
Rice Flour - a small amount of white rice flour is used to thicken and bind the zucchini slice together. You will notice that the slice doesn't rise significantly, which creates a nice, even slice that is held together really well.
Zucchini - a great vegetable for baking, zucchini provides both nutrition and moisture to recipes. It is really important though to squeeze as much excess water from your grated zucchini as possible though as it can affect the final texture of the slice.
Eggs - with 5 eggs in this recipe, it might seem like a lot, but the structure, color, protein and flavour they provide are very important to this recipe.
Cheese - any type of cheese will do for this recipe, just make sure it's grated/shredded. You can use less or substitute it for lactose free cheese if required.
Onion, bacon & corn - adding flavour, nutrition and texture, these ingredients can be substituted as per taste - just try and use similar textures and stick to about 1.5 cups in total.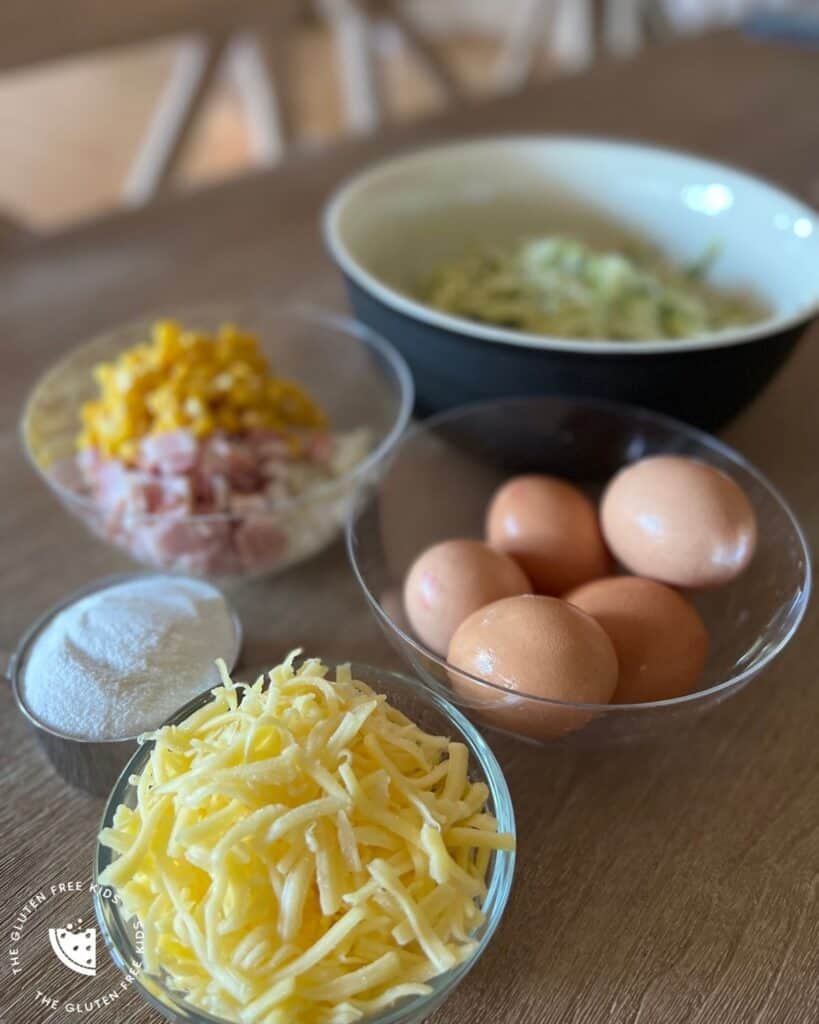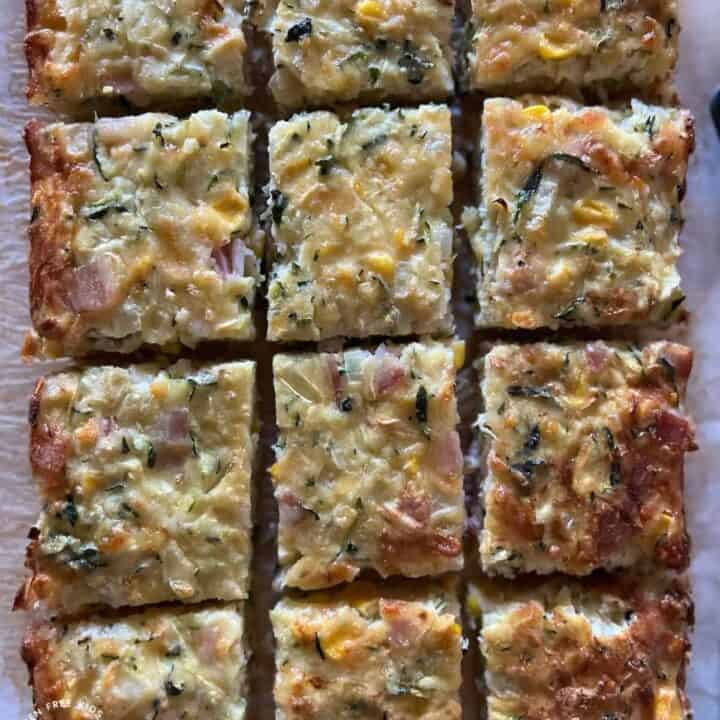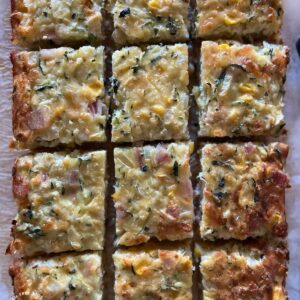 Zucchini Slice - Gluten Free
This easy zucchini slice is quick to make, uses up some questionable looking zucchini and is a hit with the whole family. Eaten hot or cold, these easy slice is perfect for dinner or a light lunch.
Ingredients
400

g

zucchinis (grated and drained well)

5

eggs

½

cup

rice flour (100g)

½

cup

grated/shredded cheese

½

onion

½

cup

diced bacon or ham

½

cup

corn kernels

salt + pepper to taste
Instructions
Heat oven to 350F or 175C. Grease a rectangular baking pan approximately 12in (30cm) with baking/parchment paper.

Lightly whisk eggs together.

Add rice flour and mix well.

Add onion, bacon, corn, and cheese and combine.

Season with salt and pepper to taste.

Pour mixture into baking tray and bake for 30 minutes until lightly golden.

Remove from oven and allow to cool before serving.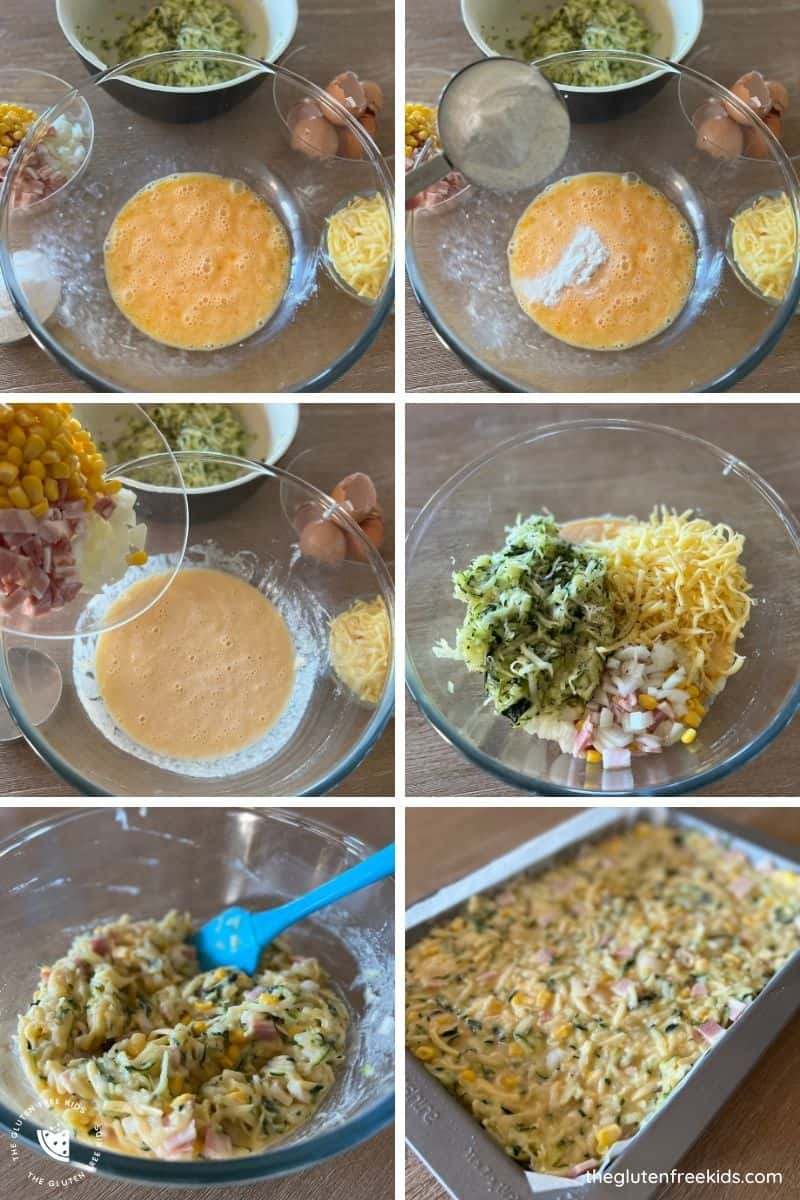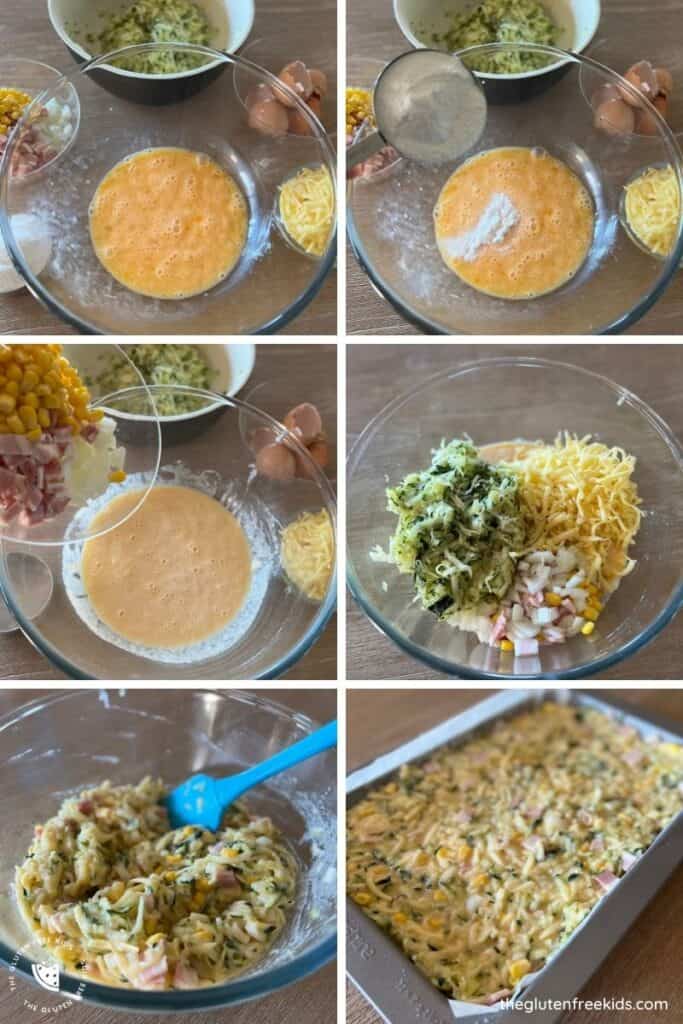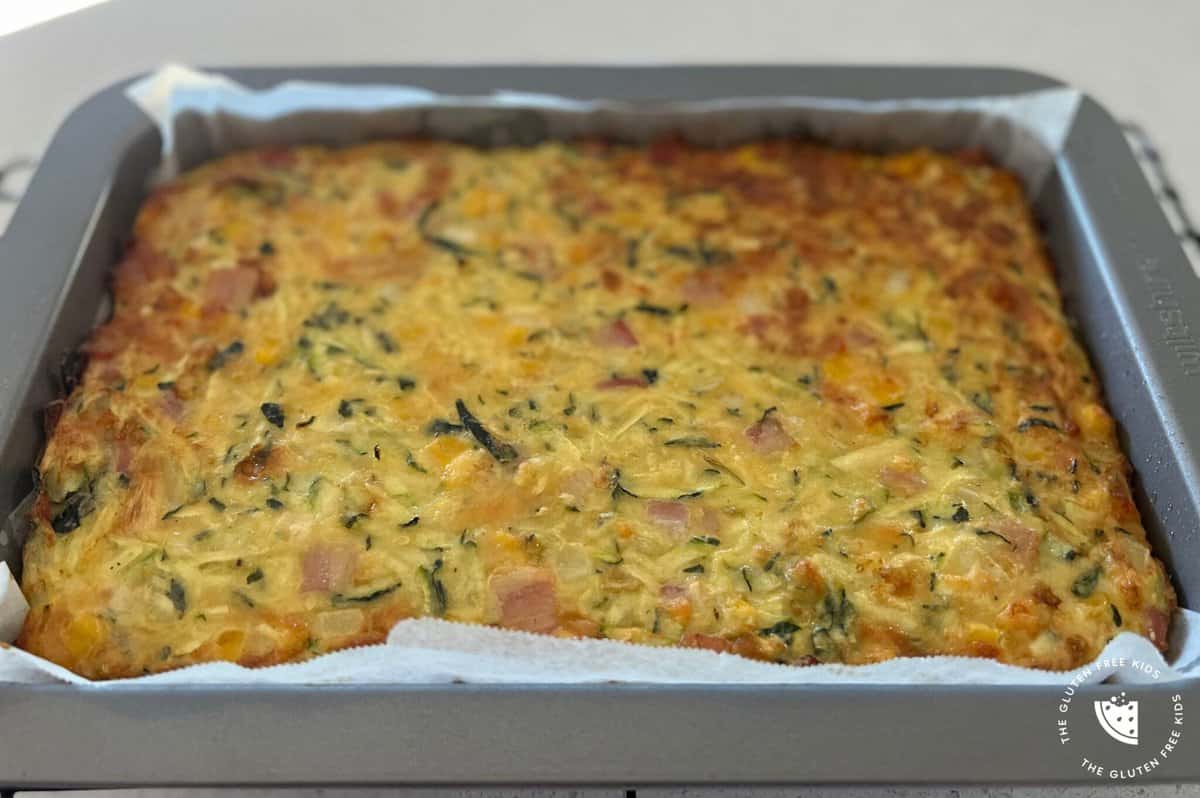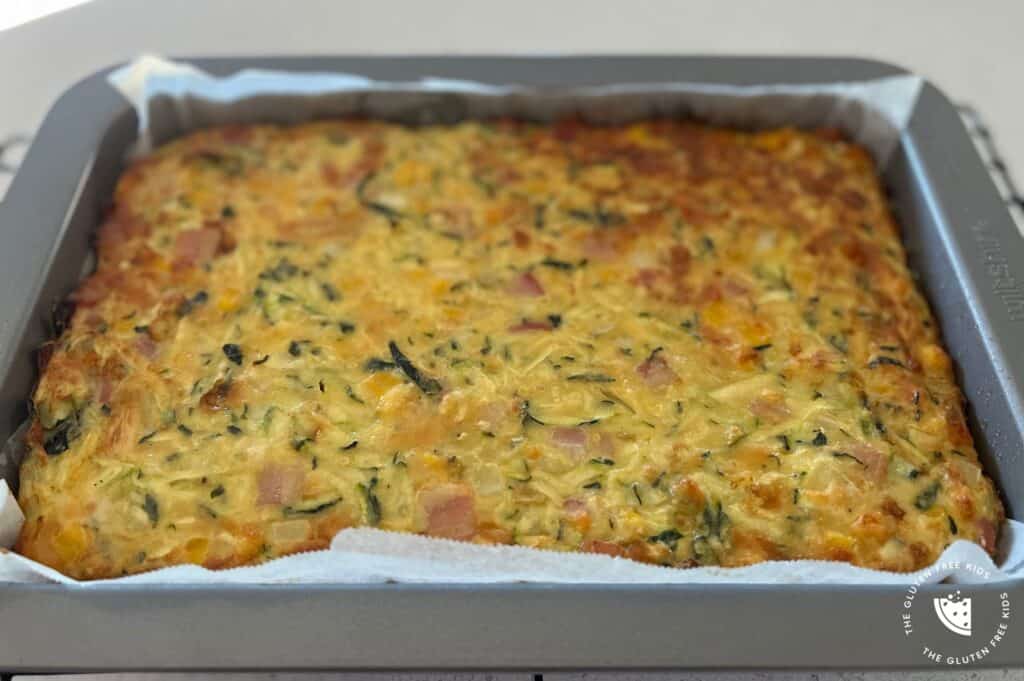 Why Is My Zucchini Slice Mushy?
You won't get a mushy zucchini slice if you drain the grated zucchini well first. Due to the high water content of zucchini, it's very important to make sure that once grated, you drain as much excess water from the zucchini as possible.
Waste not, want not though - the watery-green goodness that you drain can be used in smoothies, soups or pasta sauces that you may also be cooking up.
How Long Does Zucchini Slice Last?
This gluten free zucchini slice recipe will last in the fridge for up to 3 days.
It can be reheated in the microwave, oven or air-fryer, but is equally as delicious cold from the fridge.
This zucchini slice can be individually sliced, wrapped and frozen for up to 3 months.
More Zucchinis to use up?
If you're looking for more yummy, gluten-free ways to use zucchinis, be sure to check out:
Did you try this recipe?
Let us know in the comments!