These gluten free zucchini bites are the perfect savoury muffins for school lunch boxes or afternoon tea.
They are quick to pull together, only take 20 minutes to bake and can be eaten cold or warm. They are tasty, not too cheesy and full of zucchini goodness. You can't stop at one.
Ingredients Required for GF Zucchini Bites
The great thing about this recipe is how simple the ingredients are. You can replace some of the zucchini for grated carrot easily, any type of cheese works well and you can swap out the corn for another vegetable of preference.
This recipe is really quite forgiving!
For today though, we used the following ingredients:
zucchini (2 small to medium zucchinis are perfect)
eggs
gluten free flour
cheese (grated/shredded)
milk (can be substituted for a milk of your choice very easily)
corn kernels
mixed or Italian herbs (as per taste)
salt and pepper to taste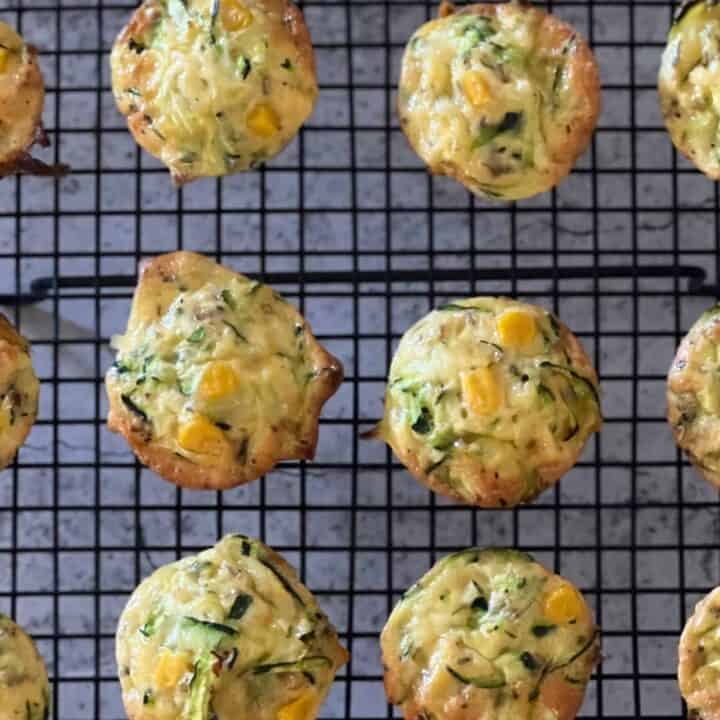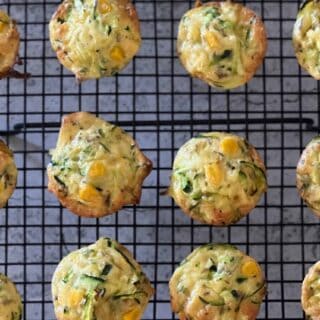 Zucchini Bites - Gluten Free
Ingredients
2

small zucchinis (grated)

(aim for about 450g/1 lb approx)

8

eggs (lightly beaten)

¼

cup

milk

½

cup

gluten free flour

½

cup

corn kernels

½

cup

cheese (grated/shredded)

salt and pepper to taste
Instructions
Heat oven to 200C/400F and lightly spray a 24 mini muffin tray.

Squeeze the grated zucchini (a clean tea towel works well) to remove as much liquid as possible (see below picture).

Lightly whisk together the eggs and milk in a large bowl.

Add the zucchini, corn, cheese and salt and pepper to taste. Combine well.

Sprinkle in the gluten free flour and mix well.

Pour into the mini muffin tray and bake in the oven for 20 minutes, or until golden and cooked through.

Transfer to cooling rack and allow to cool for 5 minutes.
Notes
It's very important to drain the zucchini as much as possible as it can cause the zucchini bites to be soggy and will affect the ability to freeze them if need be.
Corn can be substituted for onion, peppers/capsicum, peas, bacon etc.
A larger muffin tray can be used, however they will require more time to bake - allow up to 30 minutes to make sure they have cooked through.
These will last in the fridge for up to 3 days and can be frozen if individually well wrapped.
A teaspoon of mixed or Italian herbs also goes nicely in these.
Draining Zucchini To Avoid Soggy Muffins
Zucchini is made up of a large amount of water, and it can be deceiving just how much it contains....until you end up with soggy baked goods!
Make sure to drain as much water as possible from your grated zucchini before mixing the ingredients together.
The water that you drain can be used in smoothies for added goodness!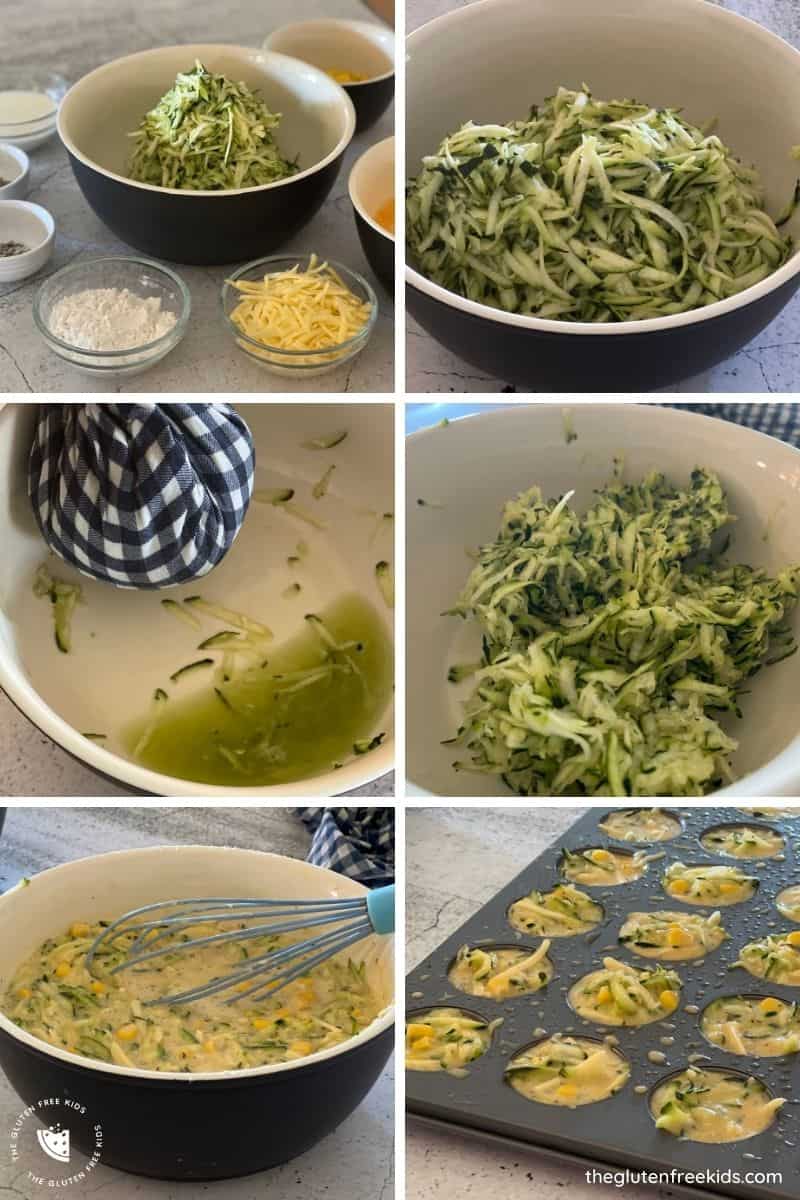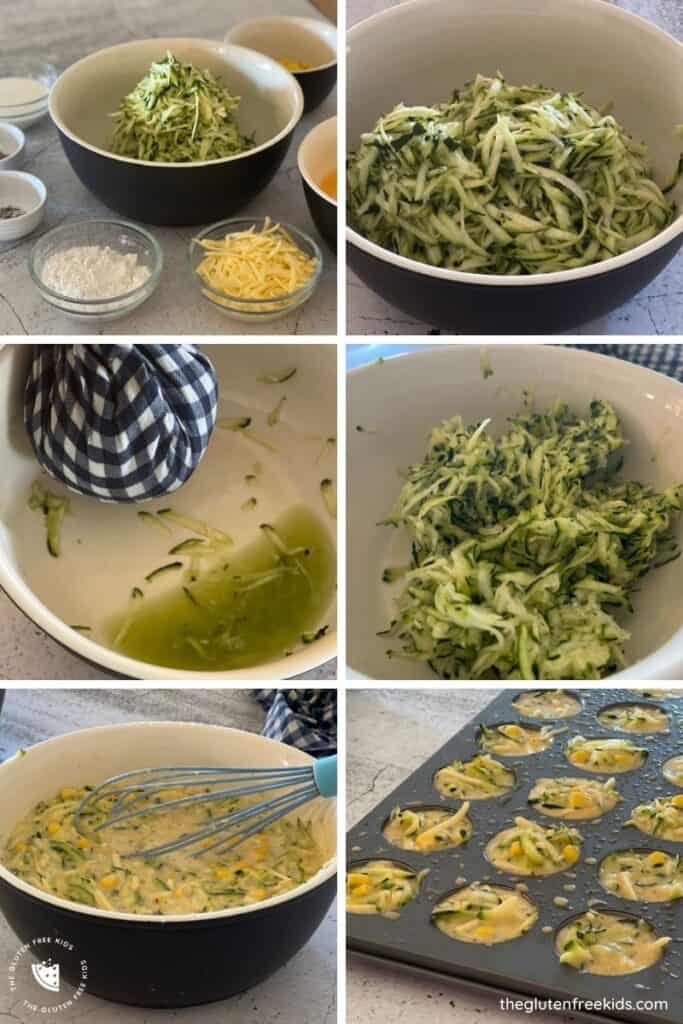 Can I Freeze Gluten Free Zucchini Bites?
Yes, you can definitely freeze this recipe, making them perfect for school lunches and snacks.
The trick is to make sure that you individually wrap and freeze the zucchini bites as much as possible and then also store in an airtight container. Then they can last up to 3 months, without a watery, soggy texture.