This healthy chocolate banana smoothie is so easy to make and tastes far 'naughtier' than it really is. It uses simple ingredients, can be made in under 5 minutes and is a winner, even with the fussiest eaters!
Creamy, smooth, chocolaty, refreshing and not to mention filling for hungry tummies. Perfect for after a hot day at school, weekend sports or just a great afternoon snack for all.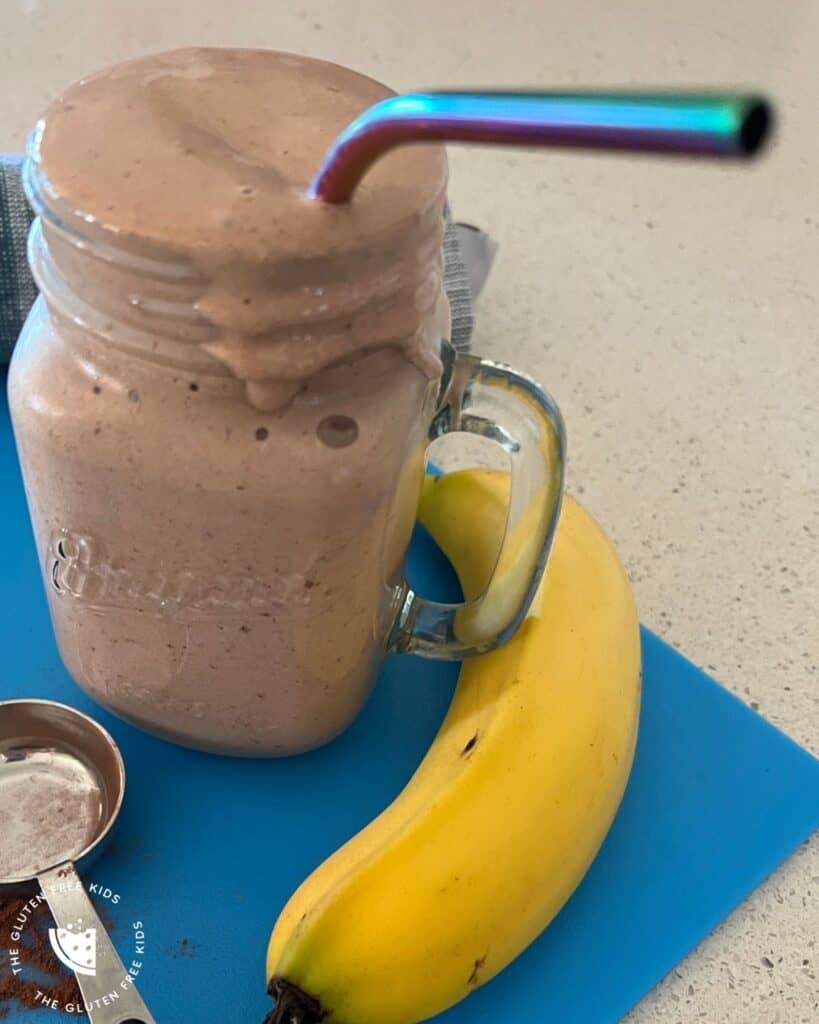 Ingredients To Make Banana-Choc Smoothies
Frozen bananas: in our fruit bowl, if a banana even starts to get a hint of 'ageing', my kids just won't touch them. It's frustrating, because ripe bananas are so much better than the bright yellow ones! Anywho, if I'm not able to bake with these bananas in the next few days, I will peel and freeze them in an airtight container. Which is when they come in handy for these type of filling smoothies!
Dates: a few medjool dates (pitted) help to give a little natural sweetness to this smoothie recipe. Dried dates will work well too, you may just need to soak them a little beforehand to soften them.
Milk: I use dairy milk, however you can easily substitute this for almond, coconut or any other preferred milk substitute.
Cocoa or cacao: I've just both and can say they are both just as good. In the below photos, I've used cocoa powder.
Vanilla: I've used a little vanilla to up the flavor a little, but you can easily leave this out if need be.
Ice: this is just a preference, but my kids love this smoothie very ice-creamy like in texture, so in addition to the frozen banana, I add a bit of ice too. This will of course depend on the strength of your blender/food processor that you will be using.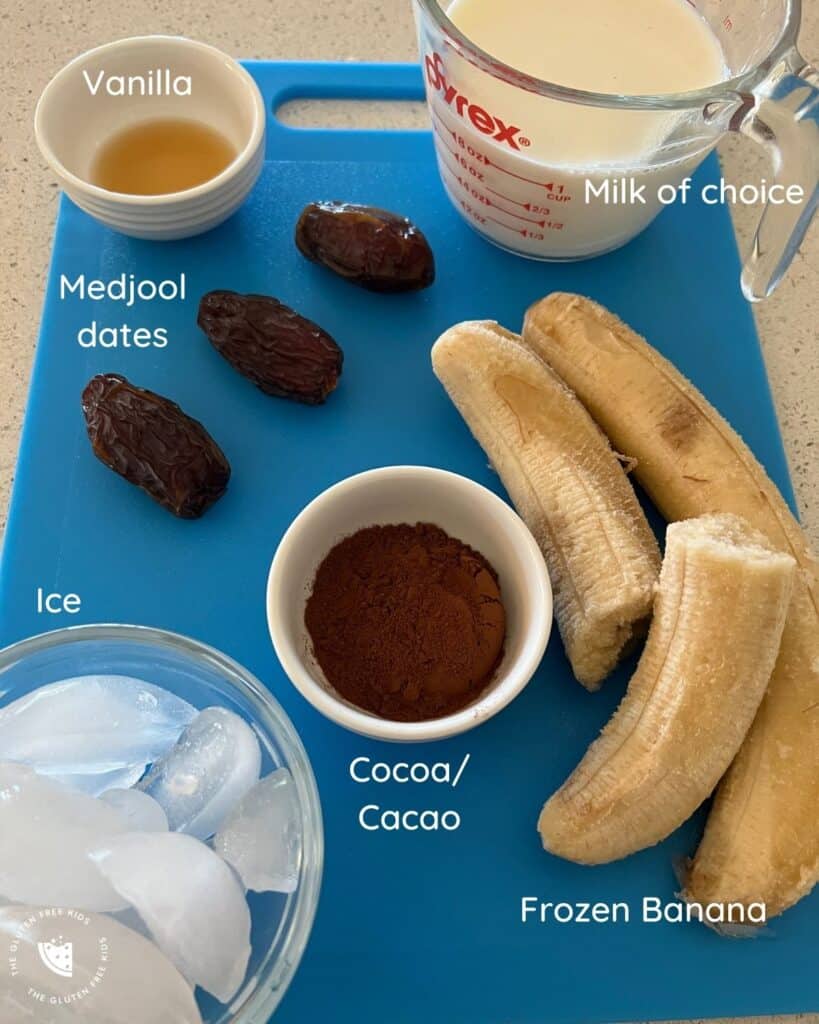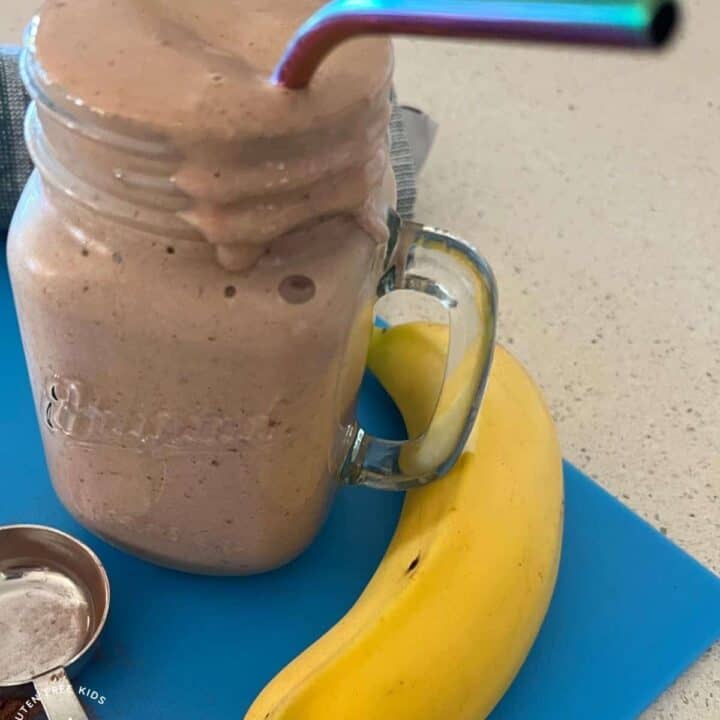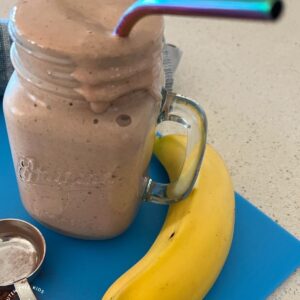 Chocolate Banana Smoothie
This icy, smooth and creamy chocolate banana smoothie is delicious, filling and a great snack on a warm day.
Equipment
Food Processor ability to process frozen bananas and ice
Ingredients
3

frozen bananas (peeled)

1

cup

milk

3

medjool dates, pitted

1

tablespoon

cocoa powder or cacao powder

1

tablespoon

vanilla essence/extract

1

cup

ice
Instructions
Add all ingredients together into a food processor or blender.

Blitz together, increasing the speed as you go and making sure all ingredients are incorporated well. Mixture should be smooth and creamy in texture - see below photo.

Serve! Makes 2 large smoothies, but I tend to split this mixture between 3-4 cups for my kids/visitors etc.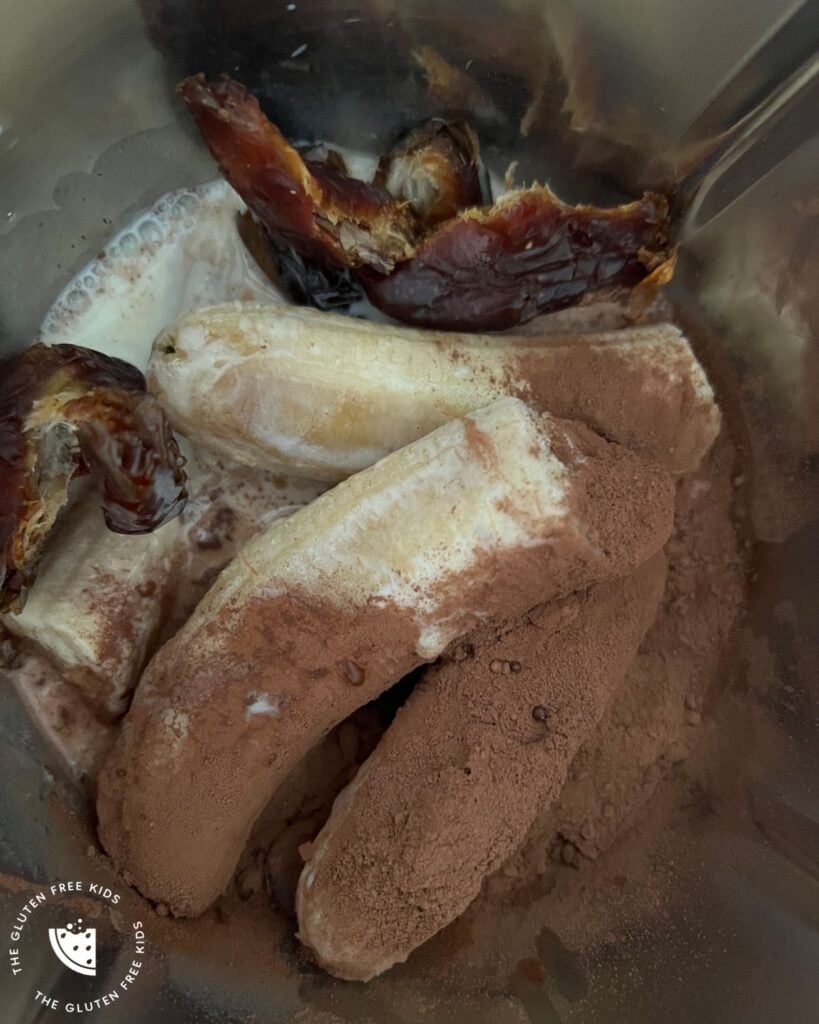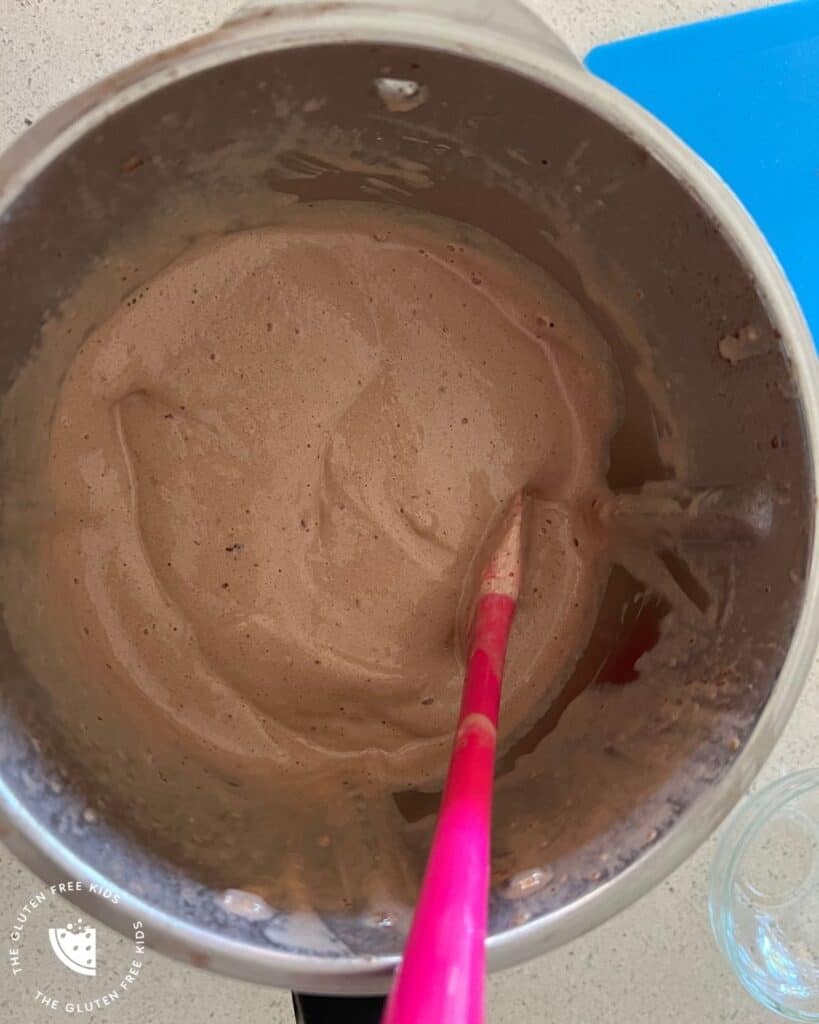 Are Bananas Healthy In Smoothies?

Bananas are a great addition to smoothies because they add sweetness and thickness.
They're also a good source of dietary potassium, vitamin C, dietary fiber and vitamin B6. All of these nutrients make bananas a healthy addition to smoothies.
Substitutions You Can Try
This is a healthier version of a chocolate banana smoothie, because it doesn't require ice-cream, yoghurt or added sugar. If you have a fussy eater, who can 'taste' the dates, you can reduce it to 2 dates and perhaps add some maple syrup instead.
A milk is required to provide a creamy texture, however you can easily substitute this for dairy free milk.
We hope that you find this healthy chocolate banana smoothie recipe just as easy and delicious as we do in our home!
For more banana recipes, be sure to check out:
Did you try this recipe?
Let us know in the comments!