Honestly, this gluten-free banana cake is delicious! It's easy to make, with simple ingredients and it doesn't take long to bake.
You can serve it warm with ice-cream or custard or leave it to cool and ice with cream cheese topping - it makes a great morning or afternoon treat. Nobody can even tell it's gluten-free!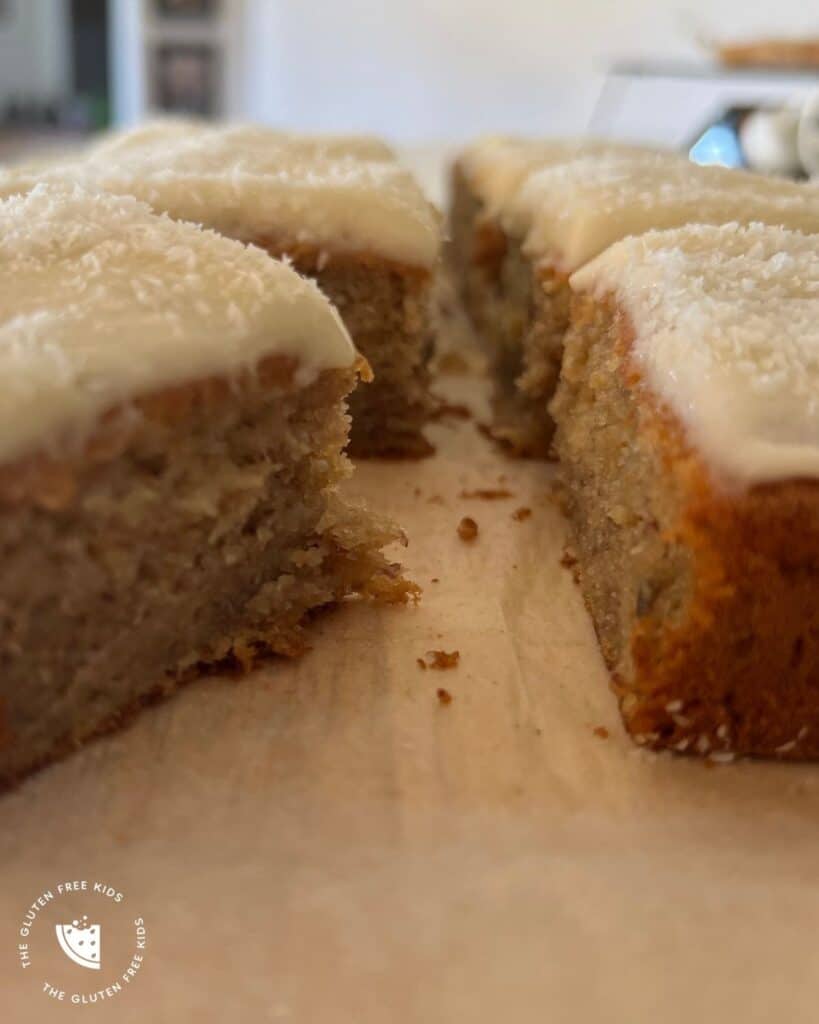 Ingredients To Make A Gluten-Free Banana Cake
I promised no fancy ingredients in this banana cake recipe and I wasn't kidding. You will only need:
Bananas: the ones that are starting to look a little 'old' are best as they produce a slight sweetness. I wouldn't recommend frozen banana in this cake though - if you have frozen banana to use, try this recipe instead: Easy, Healthy Chocolate Banana Smoothie (GF & NF)
Gluten-Free Flour: we use a commercial gf self-raising/self-rising flour, however I have included a substitute below if you are using all purpose/plain gluten-free flour instead.
Eggs
Vanilla: we've used a vanilla extract to provide a lovely light flavor to the cake which doesn't overpower the banana taste.
Butter
Brown Sugar: whilst you can use a white sugar, the brown sugar in this gf banana cake helps with keeping the cake moist, so I recommend using it.
Baking soda: also called bicarbonate soda, this is an essential ingredient to make this fluffier, gluten-free cake.
Milk: you can use a milk of your choice, but we've used your generic dairy milk here.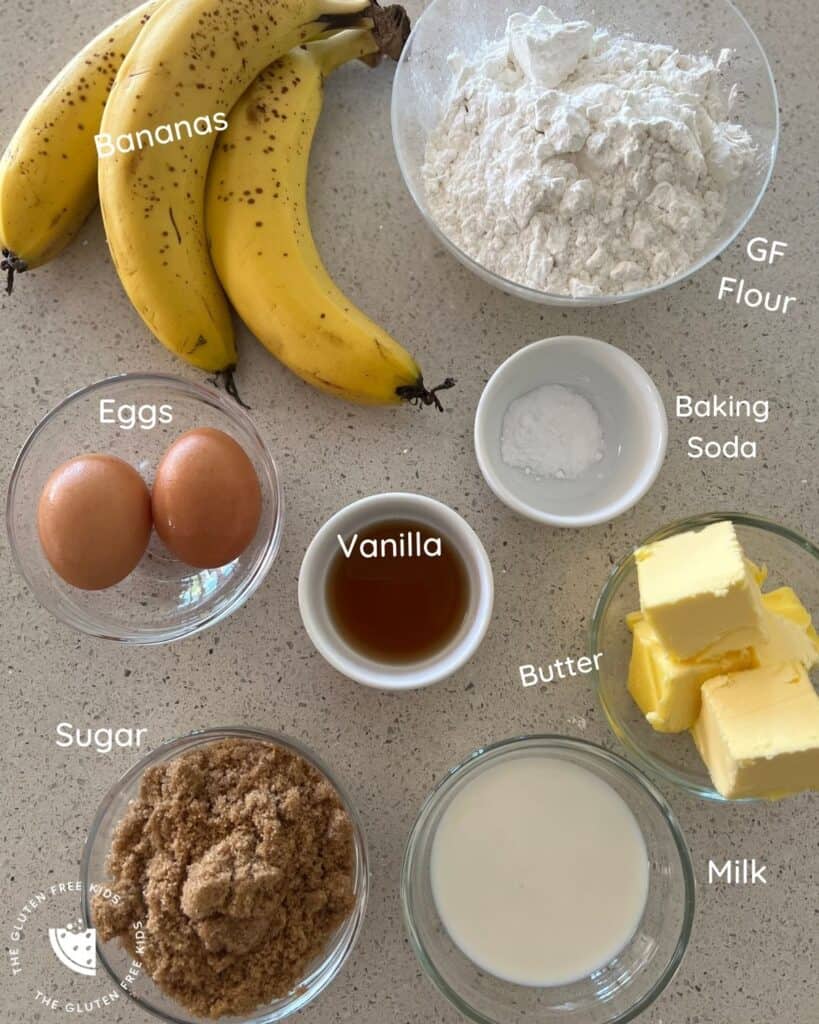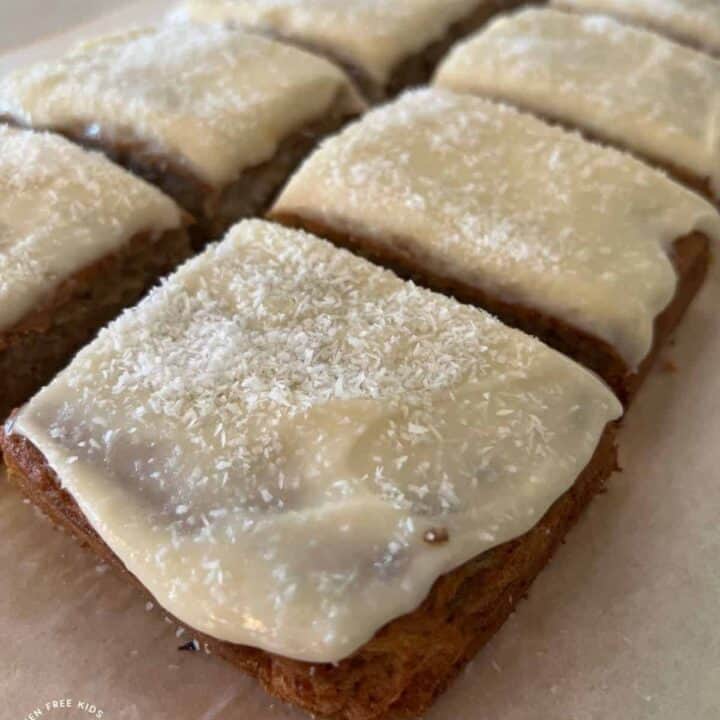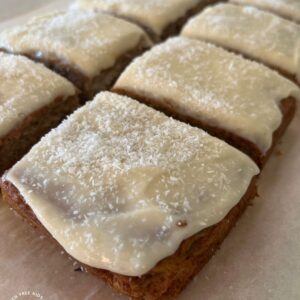 Easy Gluten-Free Banana Cake
This gluten-free banana cake recipe is a keeper! It requires simple ingredients, is quick to make and has a lovely light, moist texture - perfect for morning or afternoon teas.
Ingredients
3

ripe bananas, mashed

125

grams

butter

2

eggs

room temperature

⅔

cup

brown sugar

1.5

cups

gluten-free self raising/self-rising flour

*see below for substitutes

1

tablespoon

vanilla extract

½

teaspoon

bi-carb soda

¼

cup

milk
Instructions
Grease and line a cake tray (I tend to use a rectangular brownie pan)

Cream butter and sugar together, then add eggs and vanilla.

Add mashed banana to wet mixture and combine.

Gently fold in the flour, soda and milk until most of the lumps are gone. Be careful not to overmix here as it can affect the 'fluffiness' of the banana cake.

Bake in oven for 30-35 minutes or if using a round dish, you may need to add another 5 minutes. Either way, check on the cake at 30 minute mark and test with a skewer. If the skewer comes out clean and the cake gives a slight 'bounce' when touched on top, it's ready!

Allow to cool completely.
Notes
If you don't have gluten-free self-raising/self-rising flour on hand, you can substitute it with gluten-free plain/all-purpose flour instead. However, you will also need to add 1 teaspoon of baking powder for this recipe to allow the cake to rise adequately. Ideally though, use a self-raising/self-rising flour where possible.
Almond milk could be used instead of dairy milk.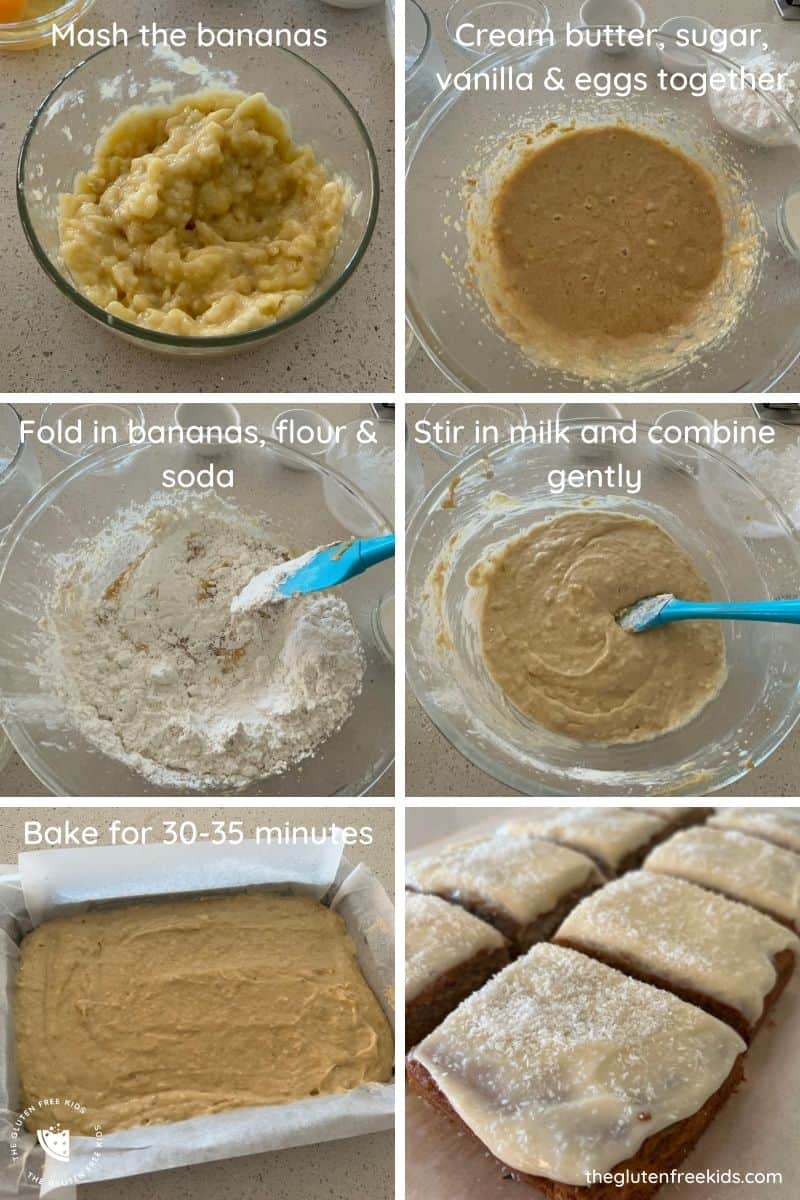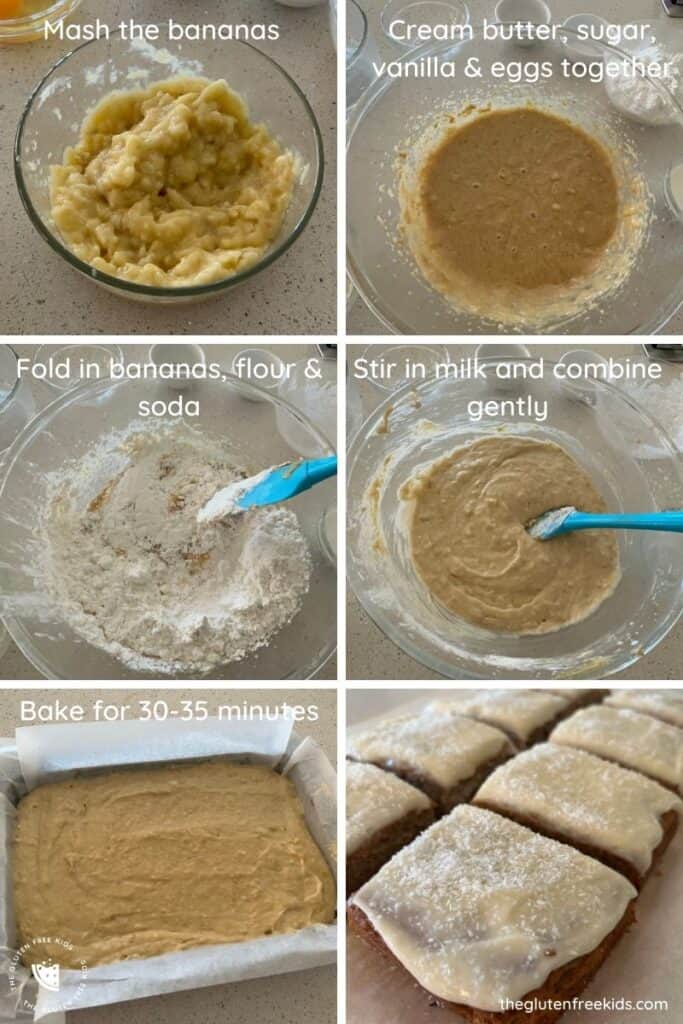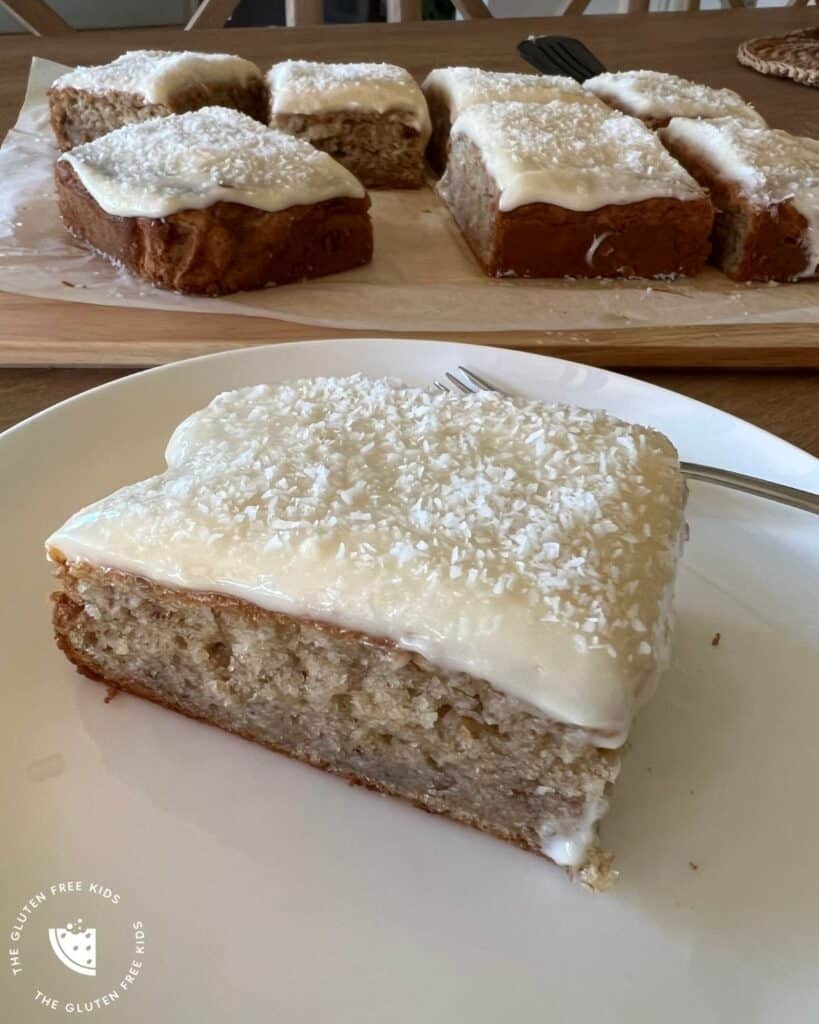 Does This Recipe Freeze?
It honestly never lasts long enough to know! However, if it hasn't been iced/frosted, you could individually wrap slices of this cake and store in an airtight container in the freezer like most cakes.
What is the difference between banana bread and cake?
Banana bread is a type of quick bread that is made with bananas as the primary ingredient. Banana bread is moist, but more savory and dense. There is less sugar and you tend to make it in a loaf pan.
Banana bread is often flavored with cinnamon or nutmeg, and sometimes chocolate chips or nuts are also added. It can be toasted and eaten warm with butter.
For a great gluten-free banana bread recipe, try this recipe: Best Gluten-Free Banana Bread
Banana cake is a type of simple cake, but with bananas added as one of the main ingredients. The addition of bananas makes the cake moist. It is sweeter and fluffier than banana bread.
Both banana bread and cake are delicious! But if you're looking for a healthier option, go for the banana bread. It tends to have less sugar.
Is Banana Cake Unhealthy?
Banana cake is a 'cake' and therefore contains sugar, butter, flour - amongst other things.
Just because it contains a fruit (banana) does not mean it's healthy.
Whilst you can reduce the sugar in a banana cake, if you're looking for a healthier option, maybe check out these other banana recipes instead:
Otherwise, enjoy this gluten-free banana cake in moderation - just like any other sweet and refined carbohydrate treat. I tell my kids' it's a 'sometimes food' 🙂
Did you try this recipe?
Let us know in the comments!