This apple, banana and strawberry smoothie is a quick and easy drink that will appease even the fussiest kids!
You can substitute the fruit, whatever yoghurt you have on hand (greek yoghurt, vanilla or plain) and use those bananas that are getting a bit 'past' it - or even better, those bananas you threw in the freezer a while back!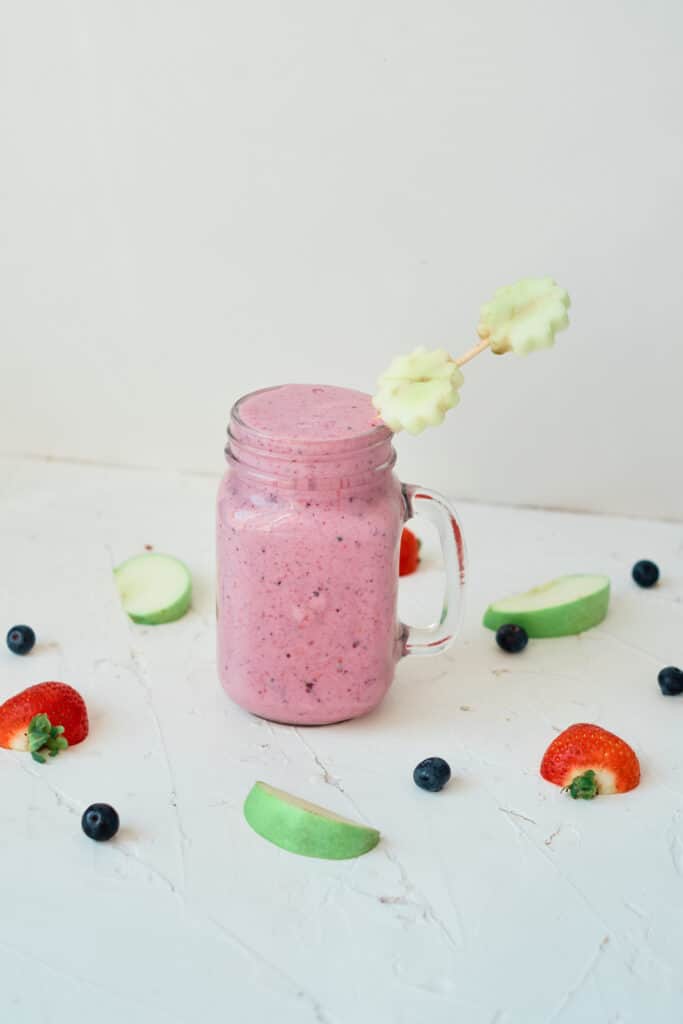 This recipe doesn't require fruit juice, so it's low in added sugar and does not contain oats or any unnecessary fillers. It's gluten free and the kids (and even adults) will think they are enjoying a naughty treat!
Any blender, Ninja, Thermomix, etc will be more than powerful enough to blitz all the ingredients together and leave you with a cold and refreshing drink.
If you aren't adding frozen fruit of any kind, add a few ice blocks to obtain that cold, icy texture and adjust the milk or yoghurt as required. But I really do recommend frozen banana as it just adds a creamy texture to the smoothie!
Apple, Strawberry Smoothie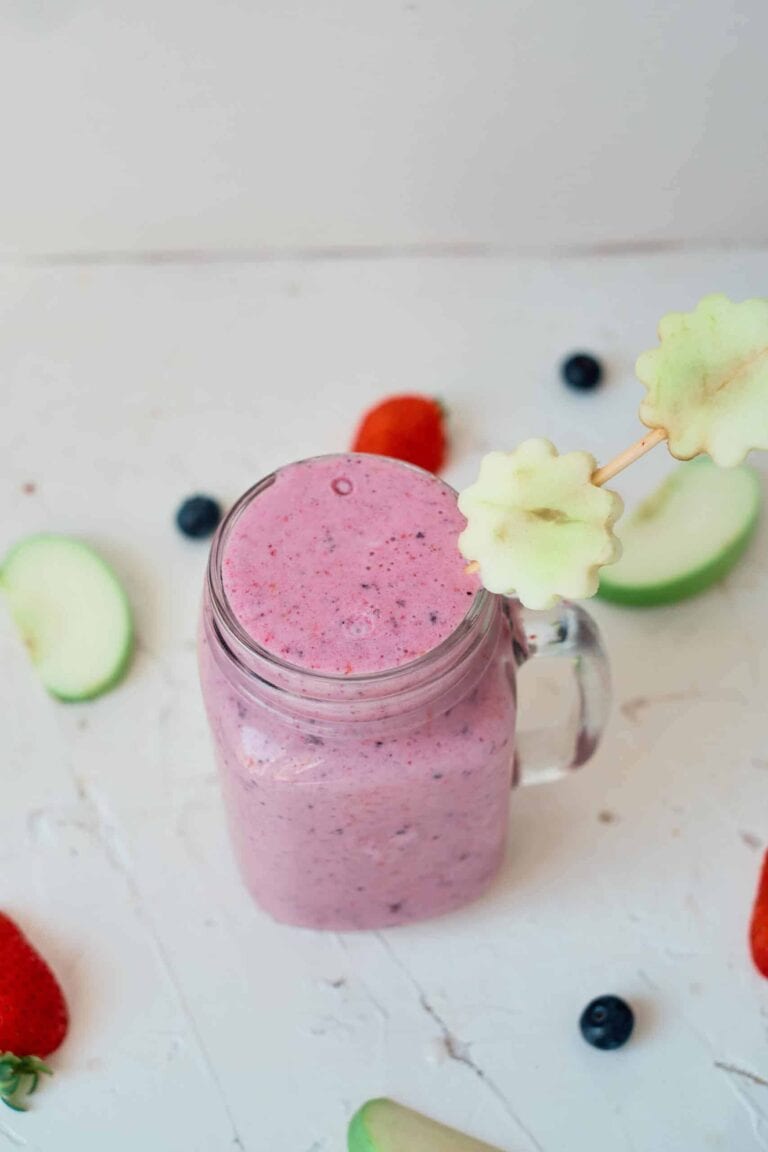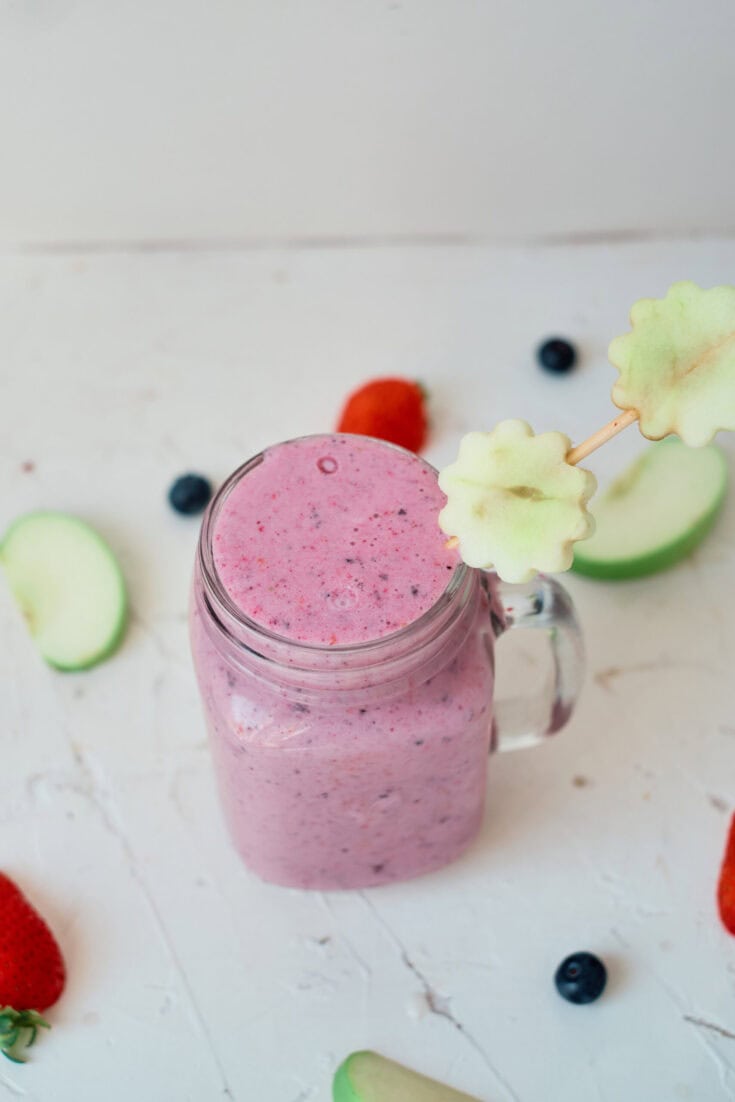 Ingredients
1 apple diced
½ cup of strawberries
1 frozen banana
¼ cup of vanilla yogurt
½ cup of milk (you can sub for plant based milk)
Instructions
Blend all ingredients until blended smooth in a blender.
Notes
The smoothie I made in the pictures, include a small handful of fresh blueberries that I also had on hand. They aren't required though as the flavor from the apple, banana and strawberries is still perfect!
The Benefits of Smoothies
Fruit smoothies are a great way to easily eat fruits or vegetables in an easy to consume way. Which makes them a winner for picky toddler and argumentative eaters. And they look so inviting!
In fact, when my eldest was initially diagnosed with Celiac, fruit smoothies were a great option for us. My son was left feeling so ill, that he barely wanted to eat. He was weak, thin and struggling to get his nutrients into his little body. It was truly heartbreaking.
While he was 'detoxing' from gluten, he had zero interest in food. He was however happy to drink milk products. So, that was my window!
I made these yummy apple, strawberry and banana smoothies for him for either a breakfast or snack. I'm not saying these smoothies were the turning point, but while he was regaining his strength and appetite, fruit smoothies helped him immensely. It wasn't long before he was back to enjoying food again.
Another benefit of fruit smoothies is that you can adjust your ingredients as and when required. Need more protein? Add some protein powder. Serving these for dessert? Substitute the yoghurt for strawberry ice cream or lemon sorbet - yum!!
The possibilities are endless. Enjoy!