Gluten Free Pancakes with Almond Flour
Almond flour pancakes are the perfect way to kickstart your day. Fluffy homemade gluten-free pancakes that will win over the whole family with one bite. This almond flour pancake recipe only requires 7 ingredients, which you might have stocked in your home! 
A grain-free pancake recipe, that is great for those who are looking for a dietary specific recipe. Once you try this recipe, you will want them over and over again. So grab your ingredients and make some freshly cooked pancakes and add all your favorite pancake toppings. 
This recipe is made to feed a crowd or cut down the recipe if you don't want to make a ton.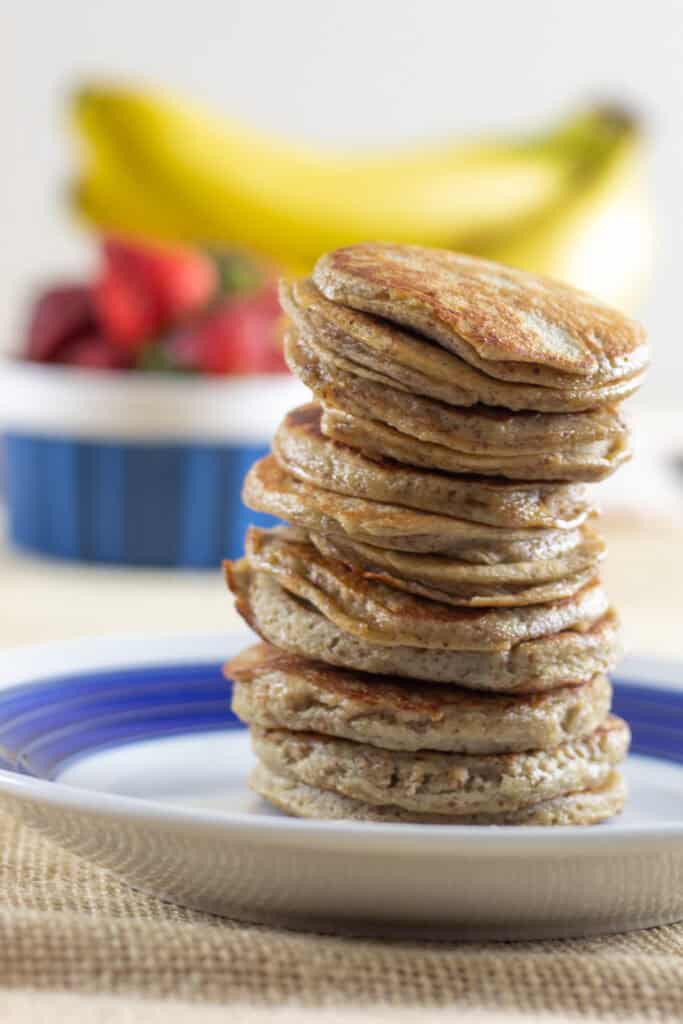 Can You Freeze These Almond Flour Pancakes? 
Yes! This recipe is for a larger amount of pancakes. So what I do is make sure to make the entire batch then freeze a portion. Then on those busy mornings, pull some pancakes from the freezer and you have an easy breakfast waiting for you!
Just layout your cooked pancakes on a lined cookie sheet. Make sure to do a single layer, and don't let the pancakes touch. Toss in the freezer and once they are frozen, transfer to a freezer bag or airtight container.
Store for up to 3 months. Just toss your frozen pancakes in the microwave for a quick reheat or even toss them in the toaster if they are the right size.
How To Ripen Bananas Fast
Want to make the recipe, but your bananas are not ripe enough yet? All you have to do is poke some holes in the skin of your bananas, and place them on a plate and put in the microwave.
Start by doing 1 minute, then check the bananas. You will want them to be pretty soft. So I tend to then move to 30-second heat ups and check each time so I don't overcook the bananas.
Once they are tender and soft to the touch, let cool a bit then peel and smash your super ripe bananas.
Be aware though, that using bananas that are not ripe will not give you that sweet flavor you want in this recipe. 
Ways To Make These Almond Flour Pancakes Healthier
Reach for pasteurized eggs
Use real vanilla extract - it will totally transform the flavor. Well worth the money.
Gluten Free Pancakes (Almond Flour)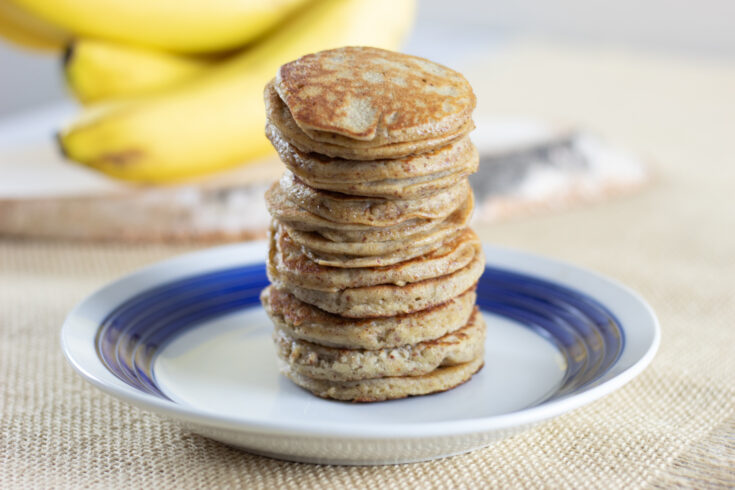 Ingredients
6 Large bananas
12 eggs
1 tablespoon of vanilla extract
1 tablespoon of cinnamon
¼ cup of honey
2 cups of almond flour
Coconut oil (for greasing the pan)
Instructions
Place bananas, eggs, vanilla, cinnamon and honey in a large mixing bowl and mix with a hand held blender.
Add in almond flour and mix until well combined.
Preheat a large pan or griddle and add a tablespoon of oil.
Using a large spoon or small measuring cup, scoop a small amount of pancake batter on to griddle. (We set our griddle to 300 degrees).
Cook for a couple minutes until pancakes is cooked well enough on bottom side to flip easily.
Flip pancake and cook on other side until pancakes are cooked through (about 3-4 minutes.)
Keep making pancakes until batter is completely gone.

These pancakes don't tend to get bubbles like regular pancakes so watching them close is the key to not burning: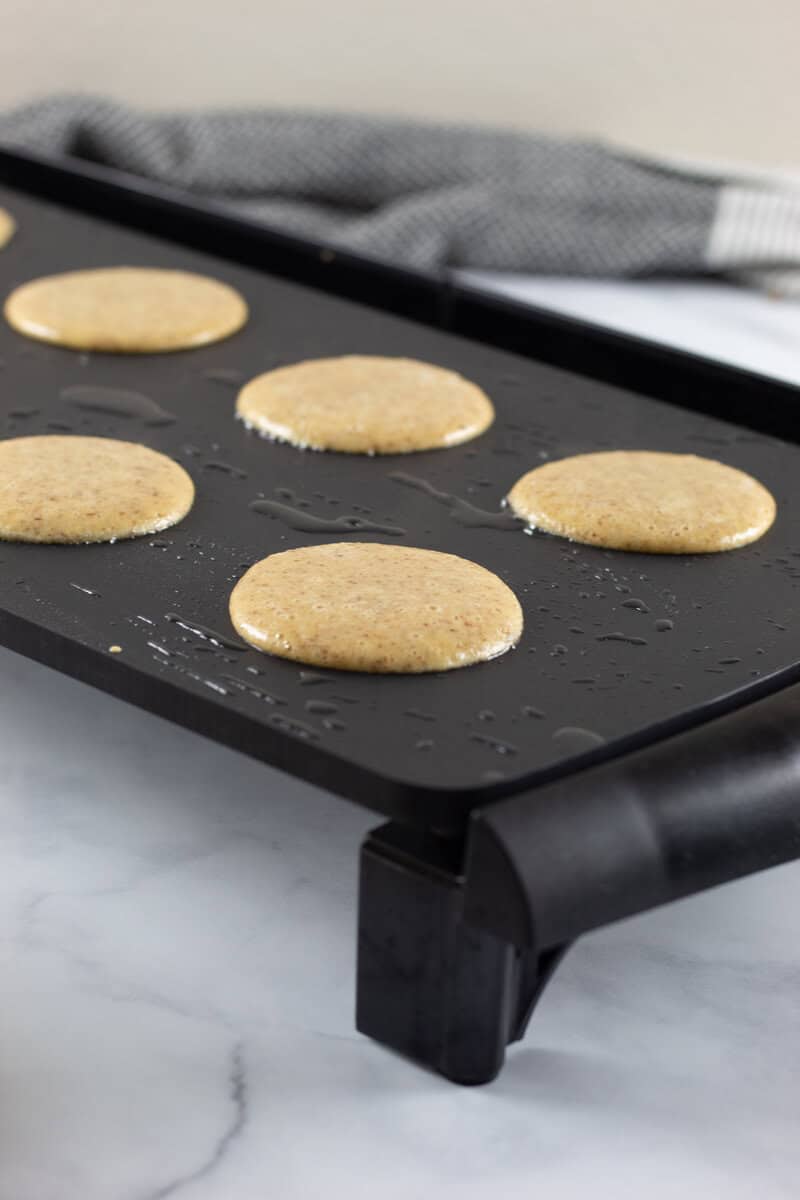 How To Know When Gluten Free Pancakes Are Done
You will find when cooking with almond flour in terms of a pancake, the cooking process is slightly different. You won't see the pancakes bubble around the edges as a traditional pancake does. All you need to do is gently lift up an edge of the pancake to peek to see how the color is.
Once golden brown flip the pancakes and finish cooking. Pancakes always firm up to the touch once they are done. So just aim to not overcook these pancakes.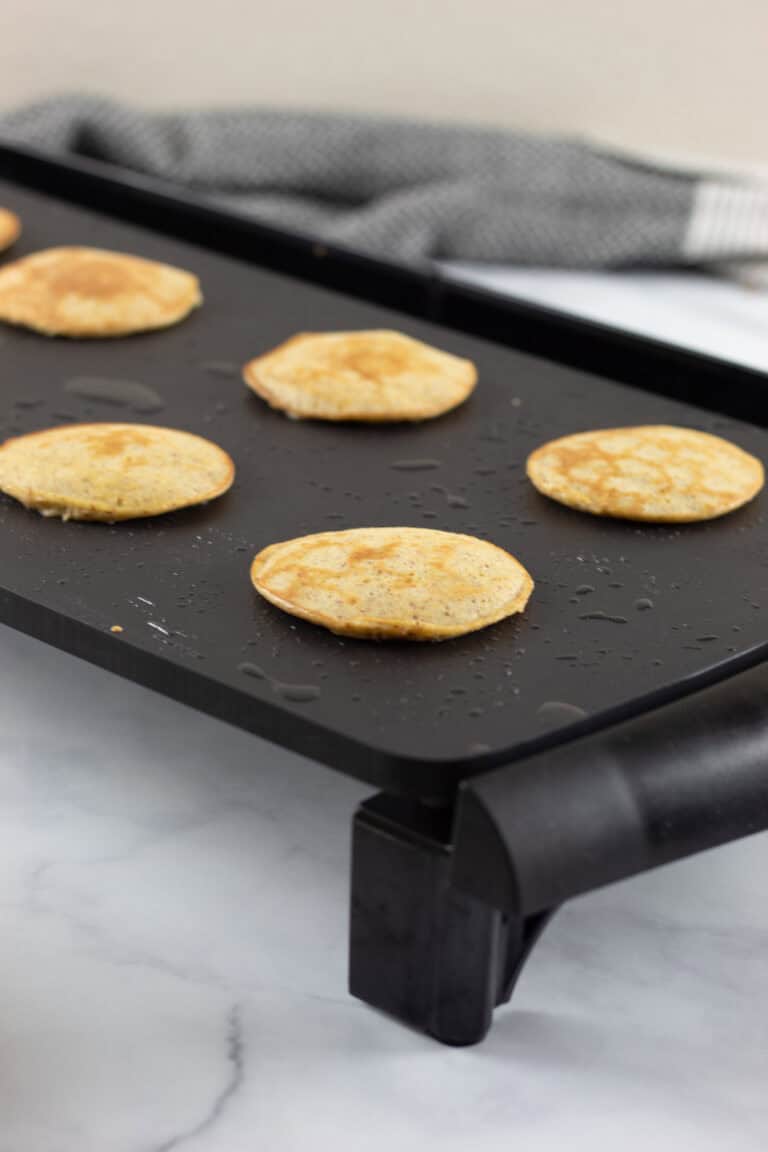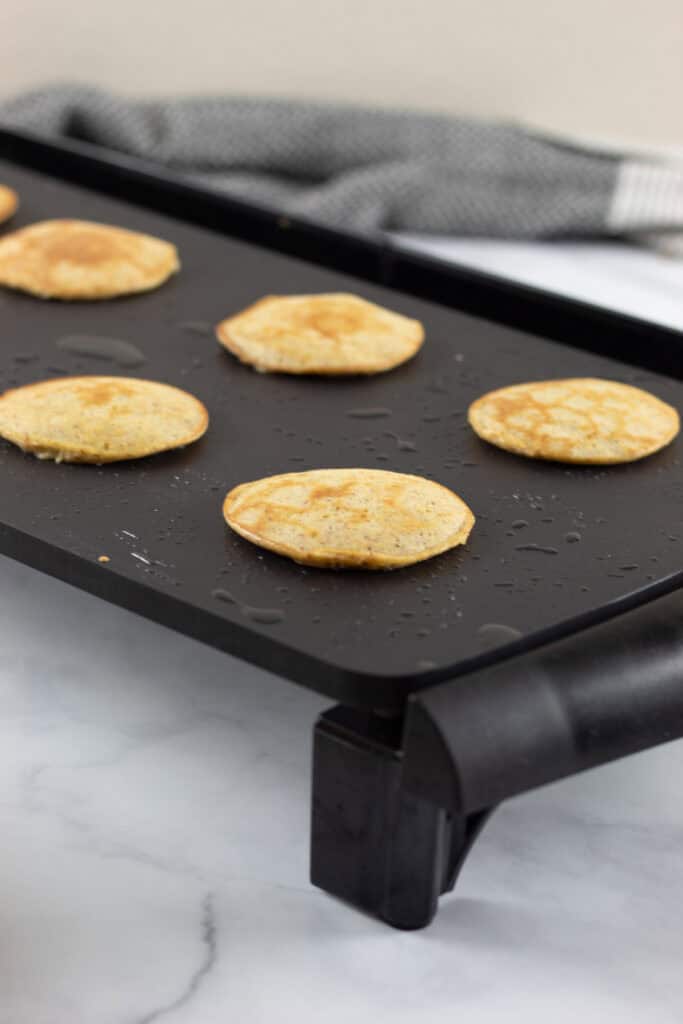 Topping Ideas For Pancakes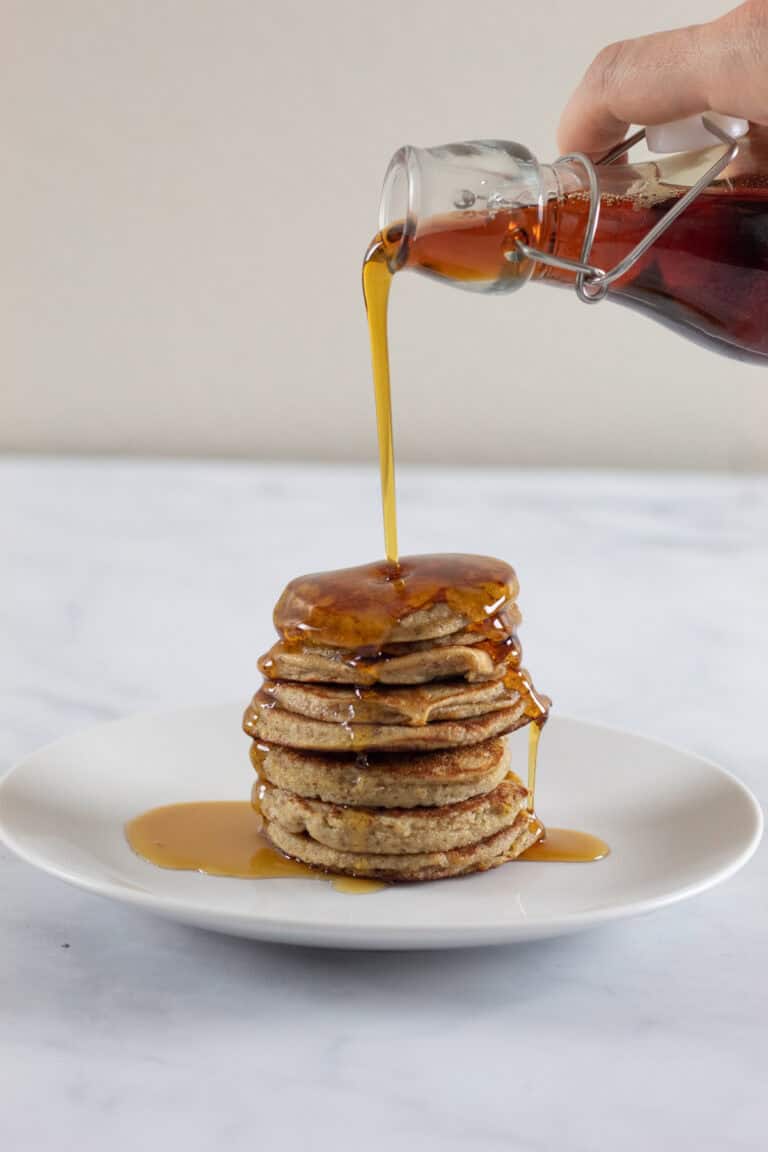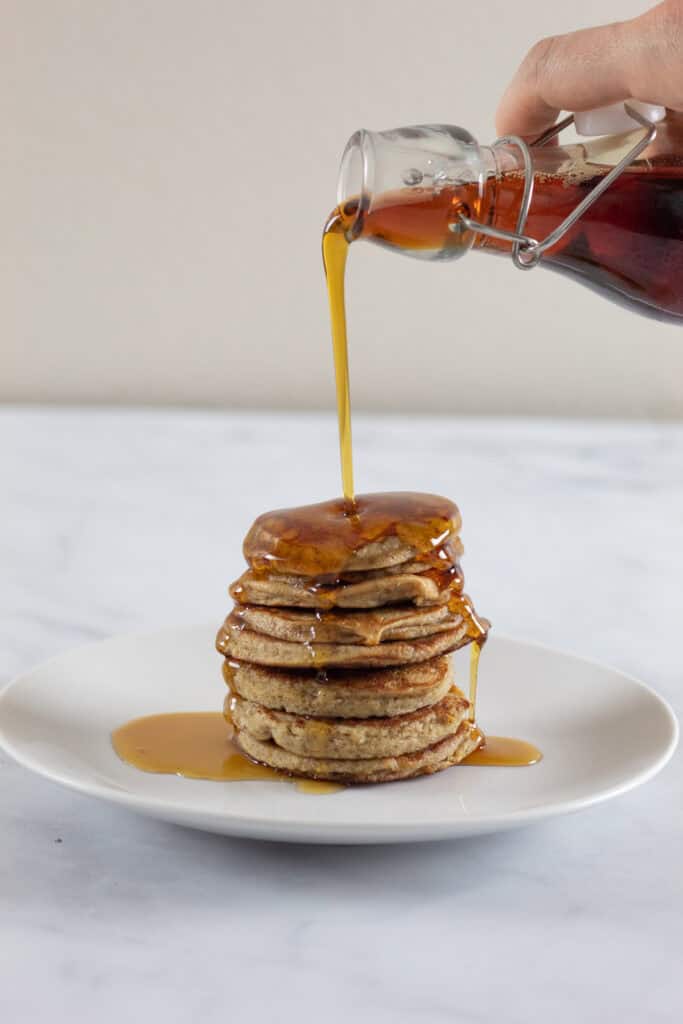 Syrup and Butter
Fresh Berries 
Dollop of whipped cream 
Chocolate chips 
Spread of peanut butter or nut butter 
Jelly 
Sprinkle sugar and fresh lemon juice
Serve up these almond flour pancakes the way you would any other. We mix it up a lot depending on the occasion for serving up pancakes. 
Enjoy!