We're gluten free in our home (99% anyway) and don't have any further food allergies. Milk, nuts and eggs are all still a staple in our gluten free baking.
Recently though, we had a few families over to our home to celebrate a birthday. Which of course called for chocolate cake. And like always, I try my hardest to make sure that nobody can actually tell that it's gluten free, which to be honest, I can do fairly easily with chocolate cake these days. Tick.
However, this time I needed to also consider a child's egg allergy and a friend who is vegan. So with a natural love of coconut milk, a little research (hello flax-egg!) and (only) three attempts, we all enjoyed this amazing creation that ticked all the boxes: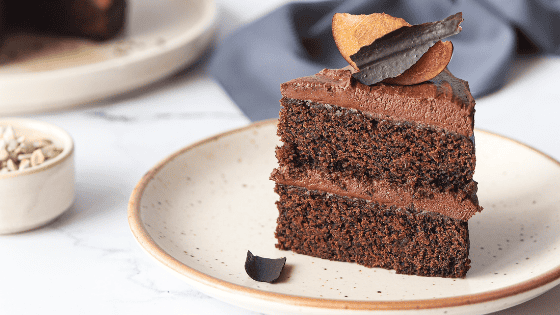 It was a hit with both kids and adults!
Gluten-Free, Dairy-Free & Vegan Chocolate Cake Recipe
I'm not going to lie, this recipe requires quite a few ingredients.
Thankfully, most of which you will probably have in your pantry if you're already on a gluten free diet or even a vegan diet.
The odd ingredients that you don't have are all easily available from your mainstream grocery stores.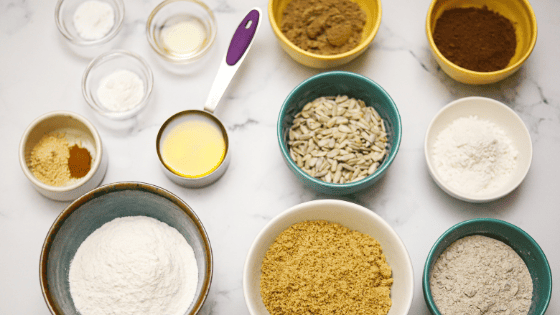 Is Buckwheat Flour Gluten Free?
Yes. Despite its very misleading name, buckwheat flour is not wheat. It's actually a seed, not a grain and is therefore gluten free.
Buckwheat flour is safe for Celiacs and all gluten intolerances.
Yield: 8-12
Gluten Free Vegan (& DF) Chocolate Cake Recipe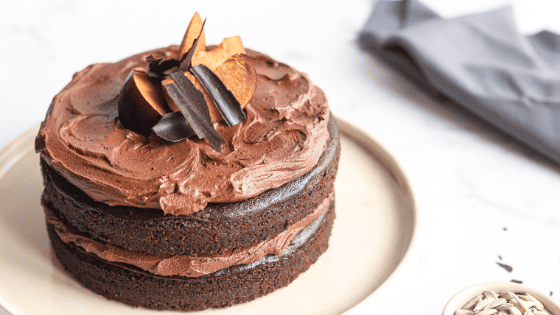 Ingredients
¾ Cup - Rice flour
½ Cup - Buckwheat flour
½ Cup - Sunflower seeds
¼ Cup - Tapioca flour
¼ Cup - Cocoa powder
1 Cup - Soft brown sugar
⅓ Cup - Apple sauce
3 tablespoon - Ground flaxseed mixed with 9 tablespoon water (flax-egg)
½ Cup - Warm water
1 ½ teaspoon - Baking powder
½ teaspoon - Baking soda
2 teaspoon - Ground ginger
1 teaspoon - Ground cinnamon
⅓ Cup - Vegetable oil
2 teaspoon - Apple cider vinegar
⅛ teaspoon - Salt
Vegan Chocolate Frosting
250g - Semisweet Chocolate
1 Cup - Full fat coconut milk
¼ teaspoon - Salt
Instructions
Cake Instructions:
Place the sunflower seeds and the buckwheat flour in a food processor and process it into a fine powder.
Place in a bowl and add the rice flour, tapioca flour, cocoa powder, ginger, cinnamon, baking powder, baking soda and salt.
In a separate bowl, take the flax-egg, sugar, apple sauce, apple cider vinegar and vegetable oil and give it a whisk until everything is evenly mixed.
Now add half of the dry mix into the wet mix and whisk it to combine.
Add the warm water and give it another whisk.
Add the remaining dry mix and whisk it until a uniform, smooth batter forms.
Grease and line two 6 (or 7) inch pans and pour the batter equally between them.
Bake both in a preheated oven at 350F (or 180C) for about 30 minutes until a skewer inserted in the middle of the cakes come out clean.
Let the cakes cool completely.

Vegan Chocolate Frosting
Chop the chocolate into small pieces.
Combine the coconut milk and chopped chocolate in a pan.
Place the pan on low heat and stir regularly until the chocolate melts completely.
Let it cool to room temperature and then place the pan in the refrigerator for around 2 hours.
Take it out and with an electric whisk, whisk it for 4-5 minutes until it turns fluffy.
Place one layer of the cake on a plate and add half of the frosting. Spread it as evenly as you can.
Now place the second layer of the cake and place the remaining frosting on top. Spread it evenly making small swirl patterns.
Place your favorite topping on to decorate (sprinkles, coconut, choc chips, fruits etc (optional).
Vegan Chocolate Frosting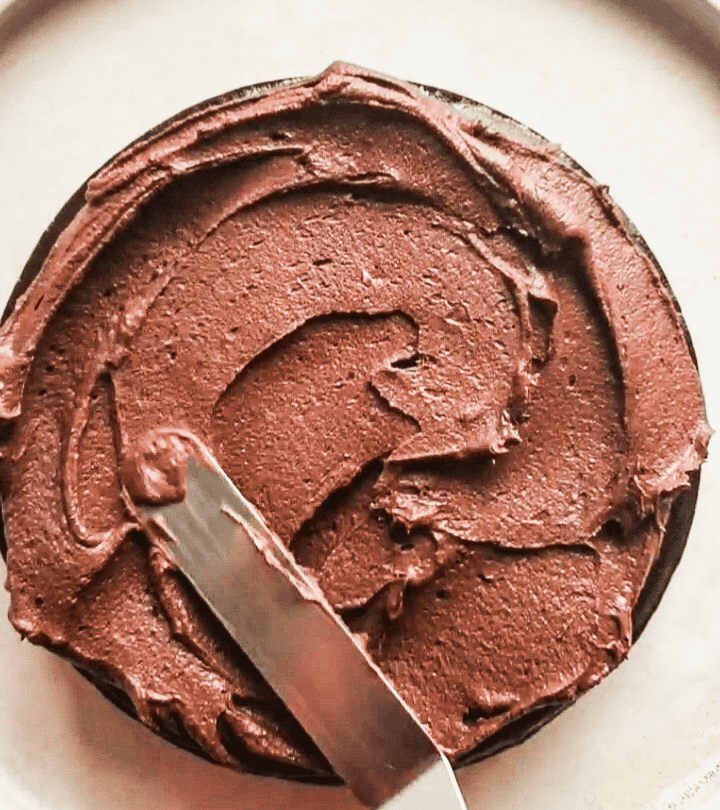 The vegan chocolate frosting we used in this cake was so delicious that I will definitely be using it more often in other recipes.
Hot tip though: the prep time for the frosting is long as it needs to sort of 'reset' again in the refrigerator, which takes a bit of time. Doing this again, I would actually start the frosting process before I even begin the cake process. That way, once your cakes are cooled, your chocolate frosting will be ready go!
I can't advise if it's suitable for freezing leftovers as there wasn't a crumb left!
Enjoy!