These classic chocolate crackles are a old time favourite for kids and adults alike. The chocolatey, coconutty crunch - delicious!
Best of all, they are quick to make and easy to adapt to gluten-free.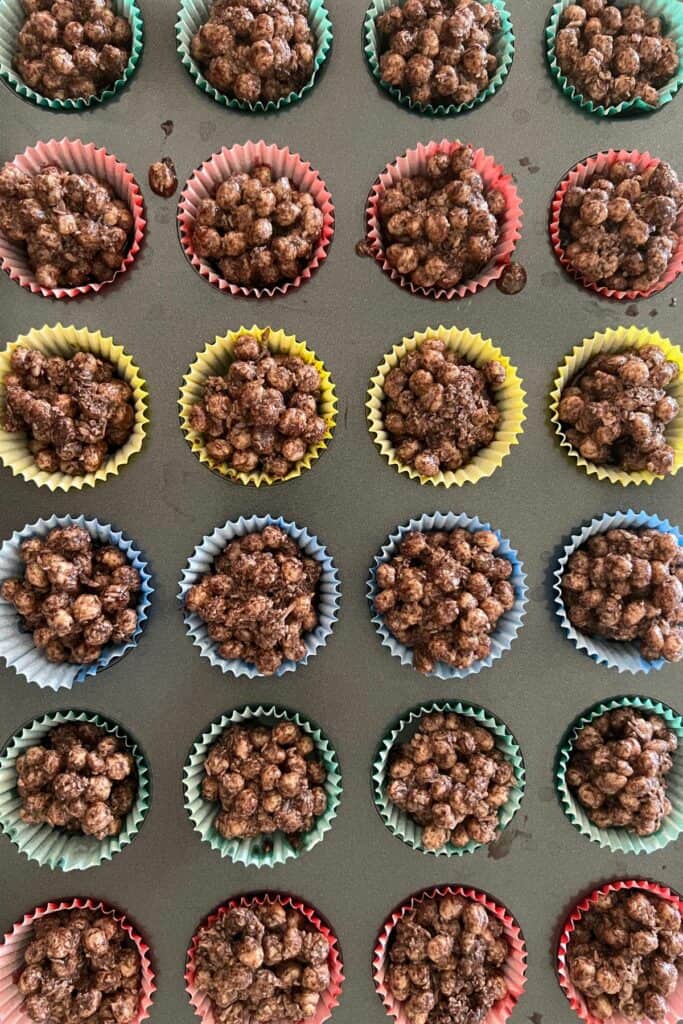 Perfect for children's birthdays parties and bake sales, these gluten-free chocolate crackles can be made in under 15 minutes and ready to serve shortly afterwards.
The photos shown here are from my youngest's recent birthday party. As many of the kids attending are still quite little, I made a mix of normal cupcake-sized crackles as well as some mini-cupcake sized portions.
For more gluten-free party food ideas, you can check out these marshmallow cones and mini pizzas.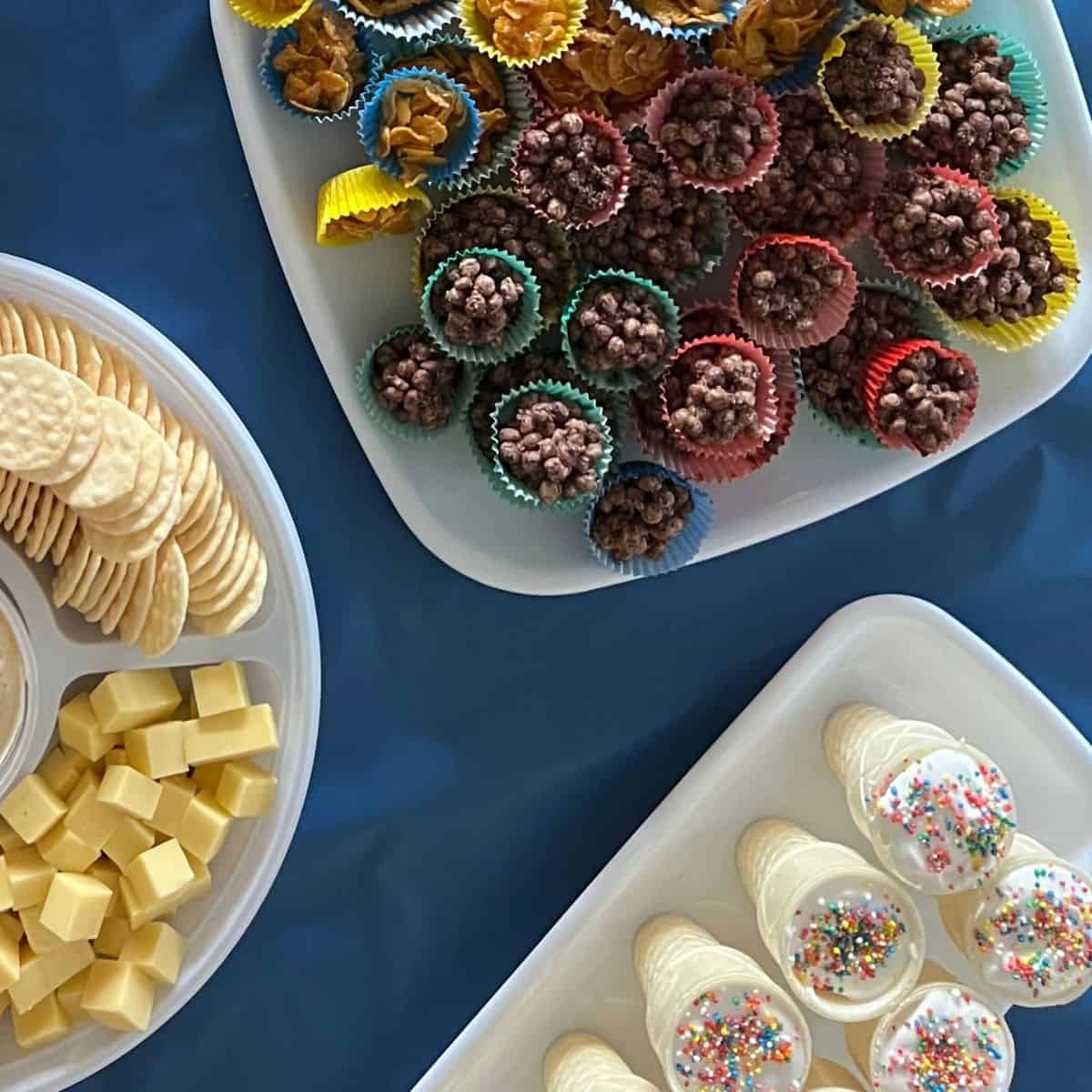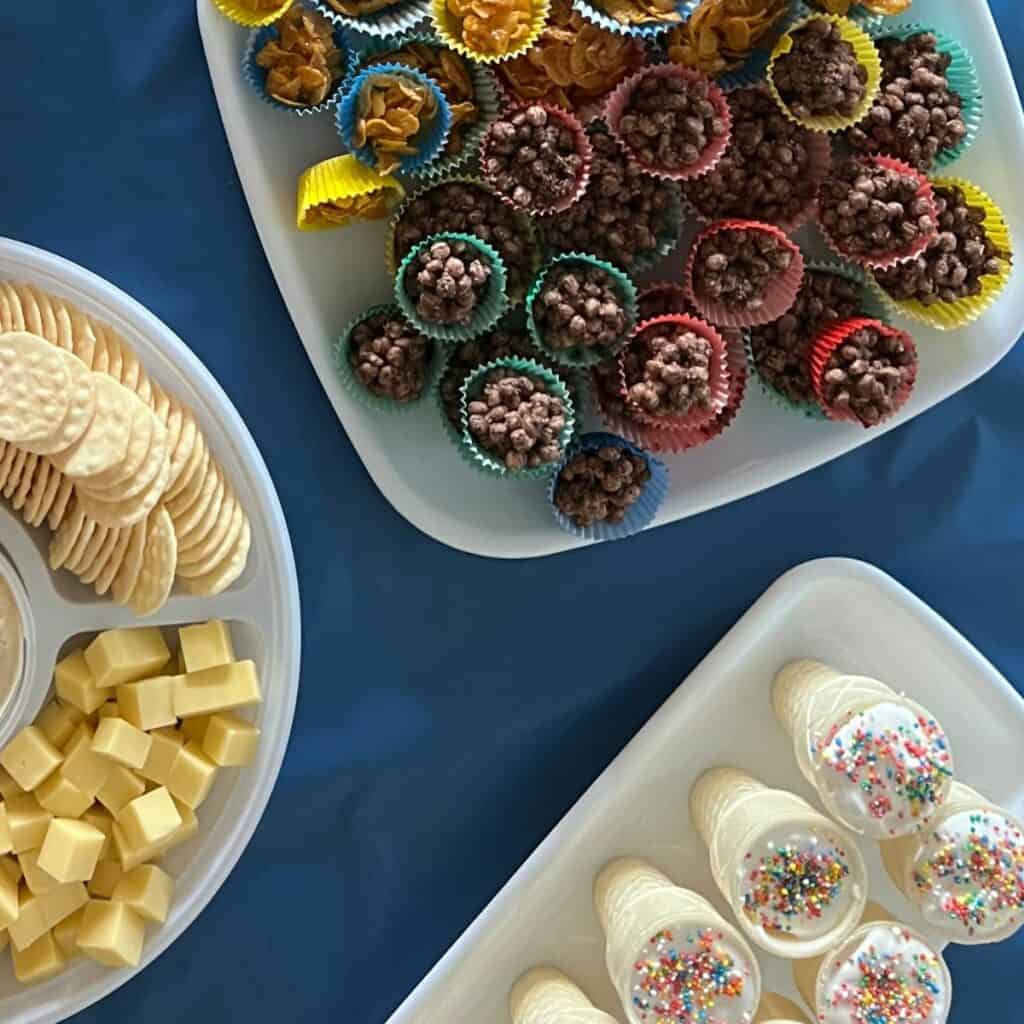 Ingredients Required For GF Chocolate Crackles
To make these gluten-free chocolate crackles, you will need the following ingredients: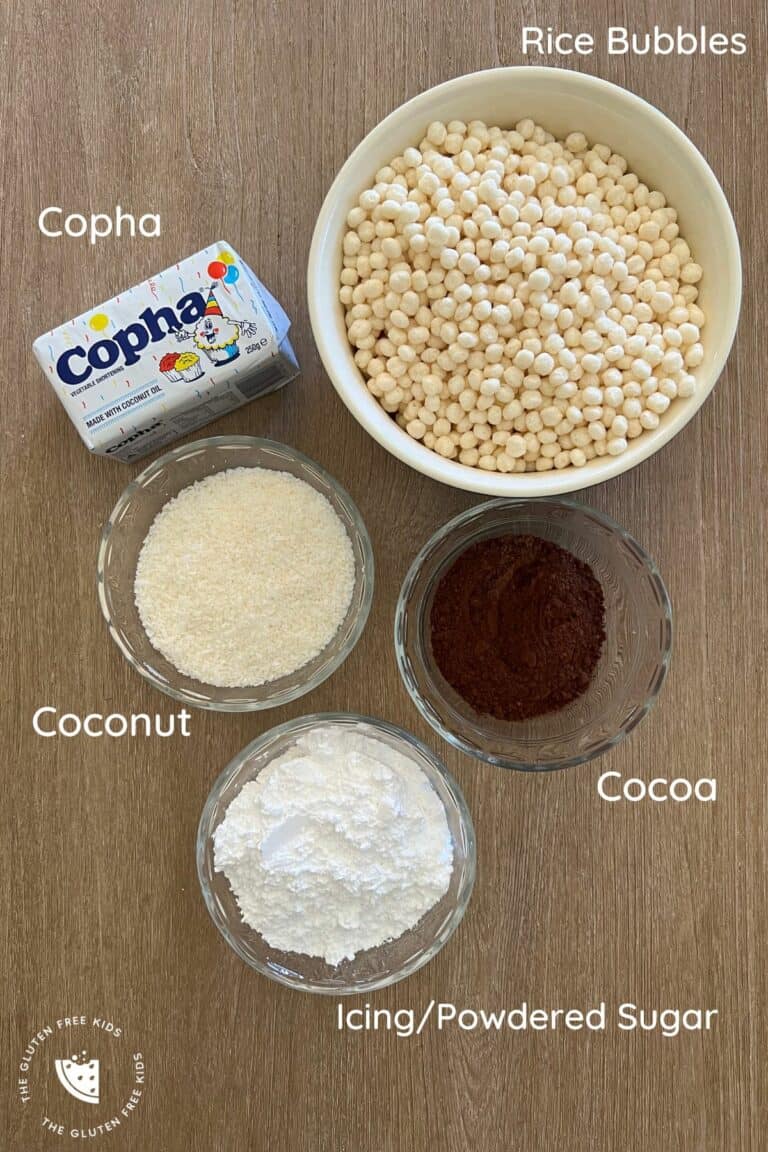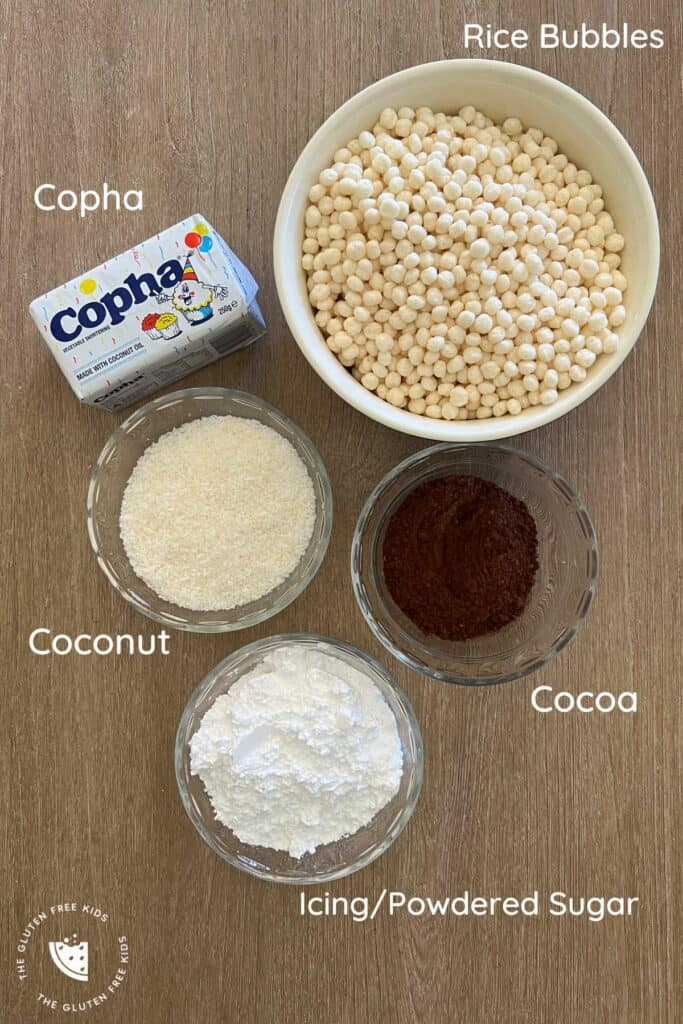 Gluten-free Rice Bubbles/Krispies
Icing/Powdered Sugar
Copha (or Coconut Oil)
Desiccated (or finely grated) coconut
Cocoa powder
See below for quantities and potential substitutes and variations.
How To Make Chocolate Crackles
One of the many great things about chocolate crackles, is just how easy they are to make: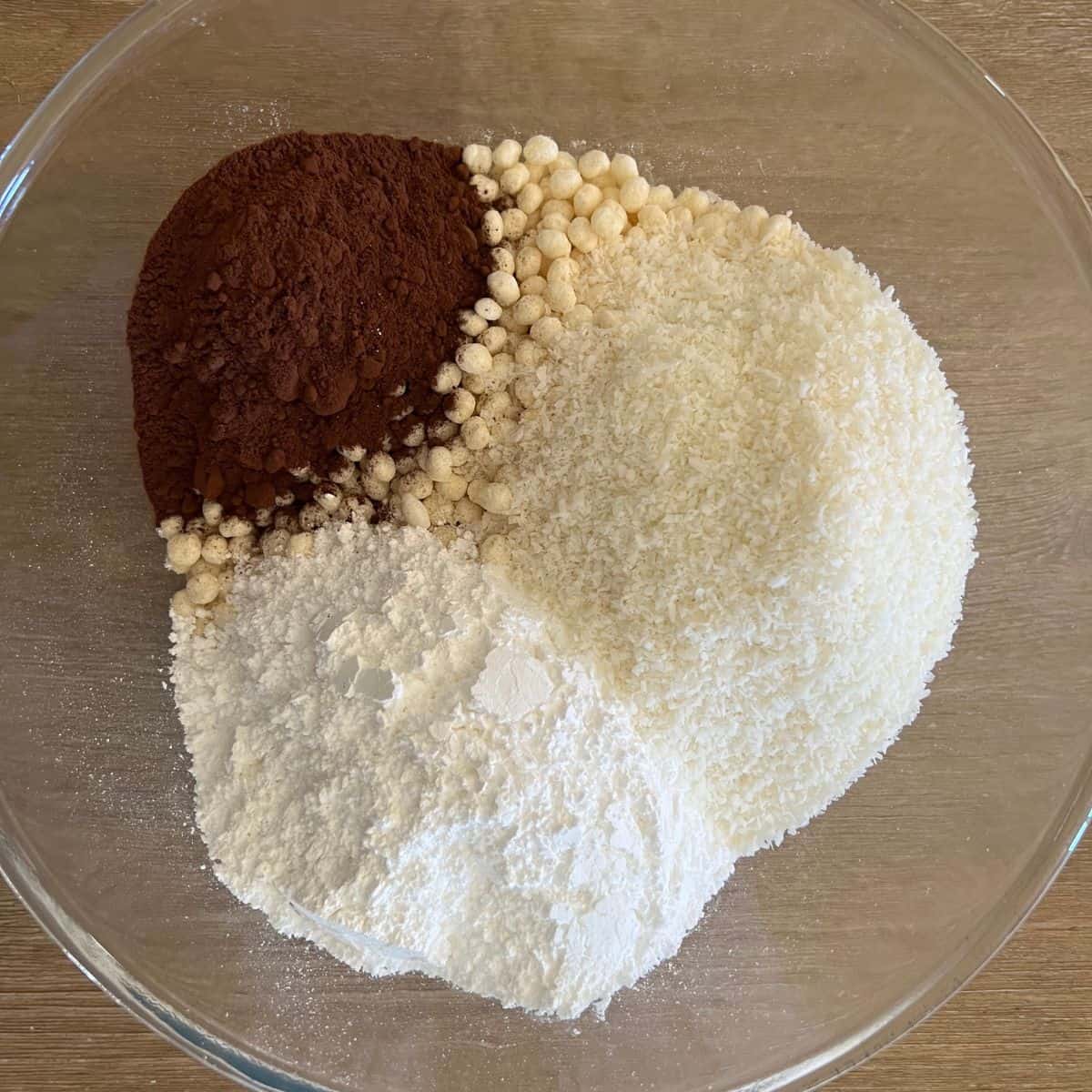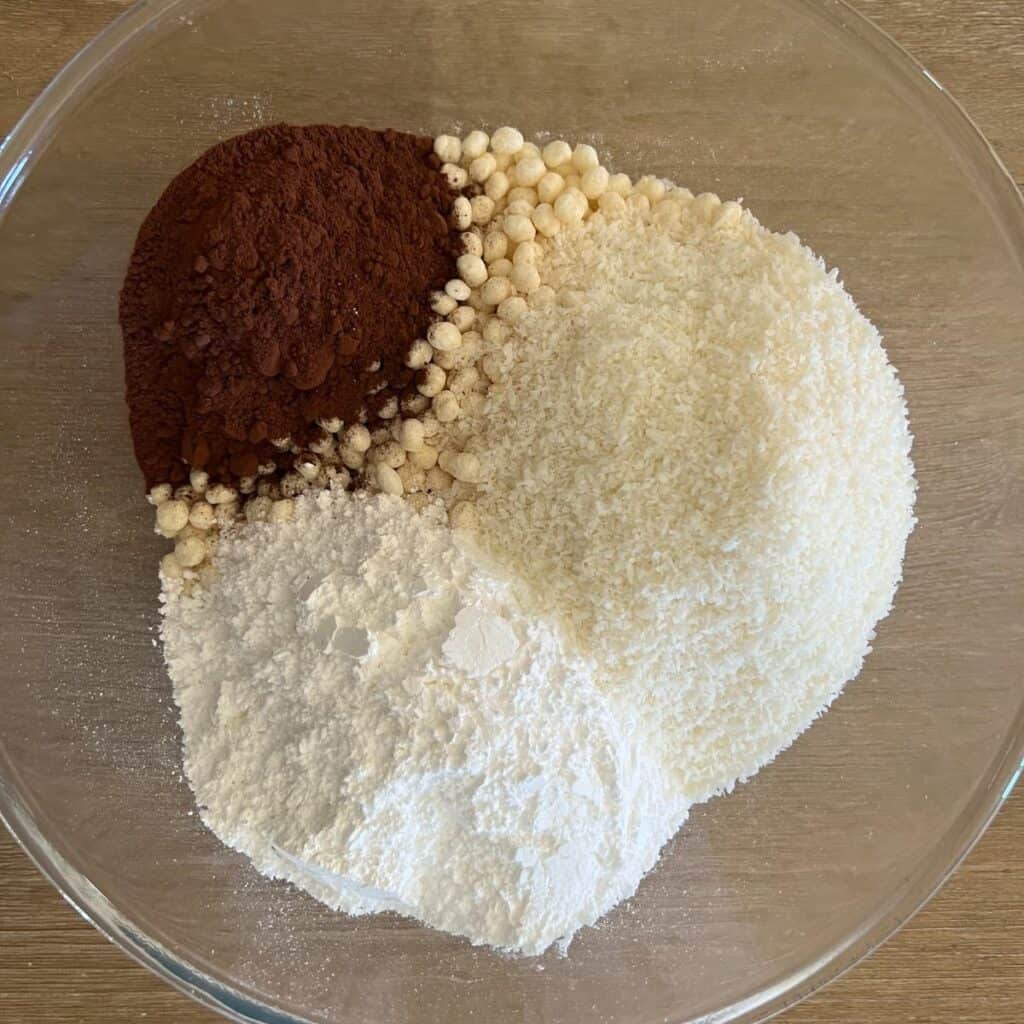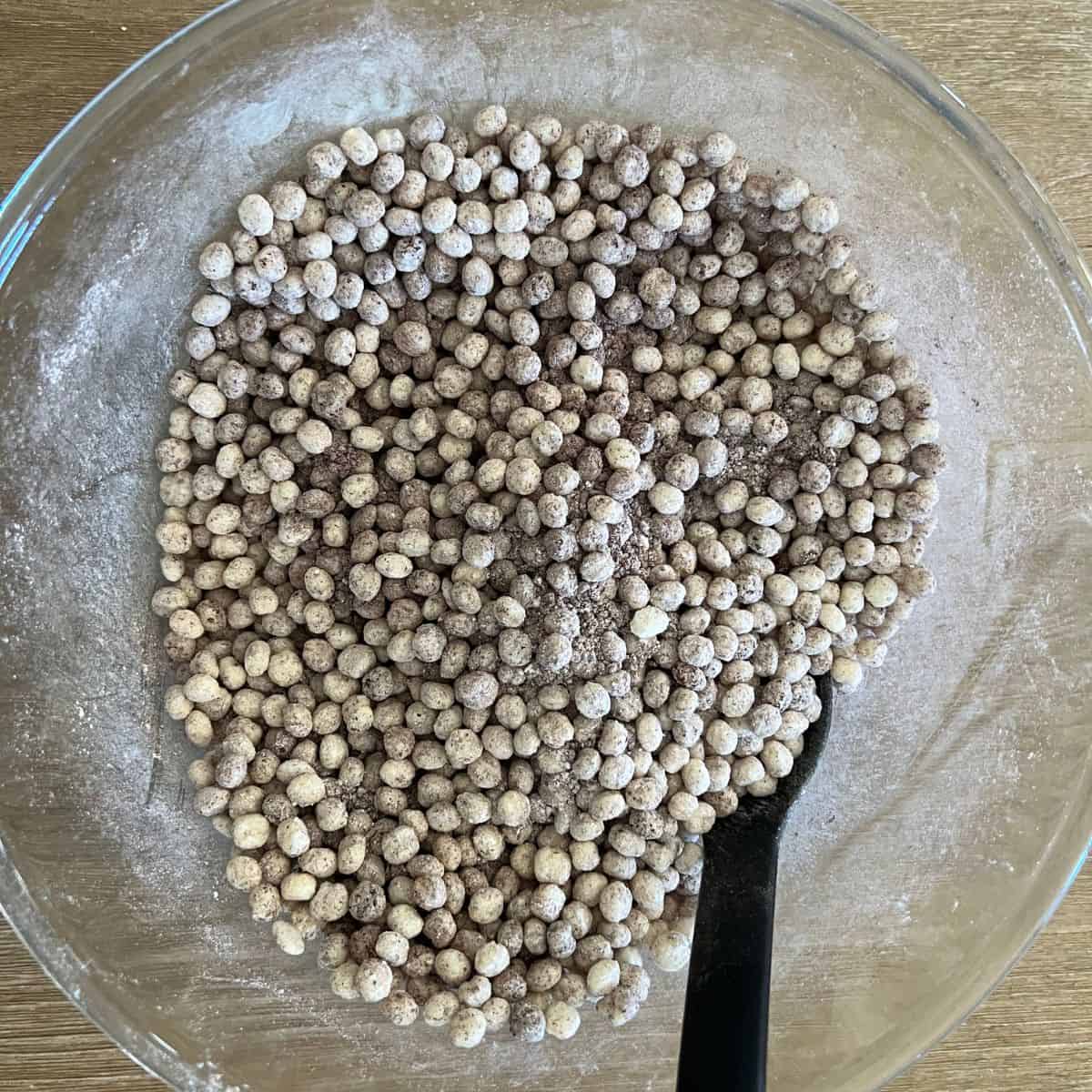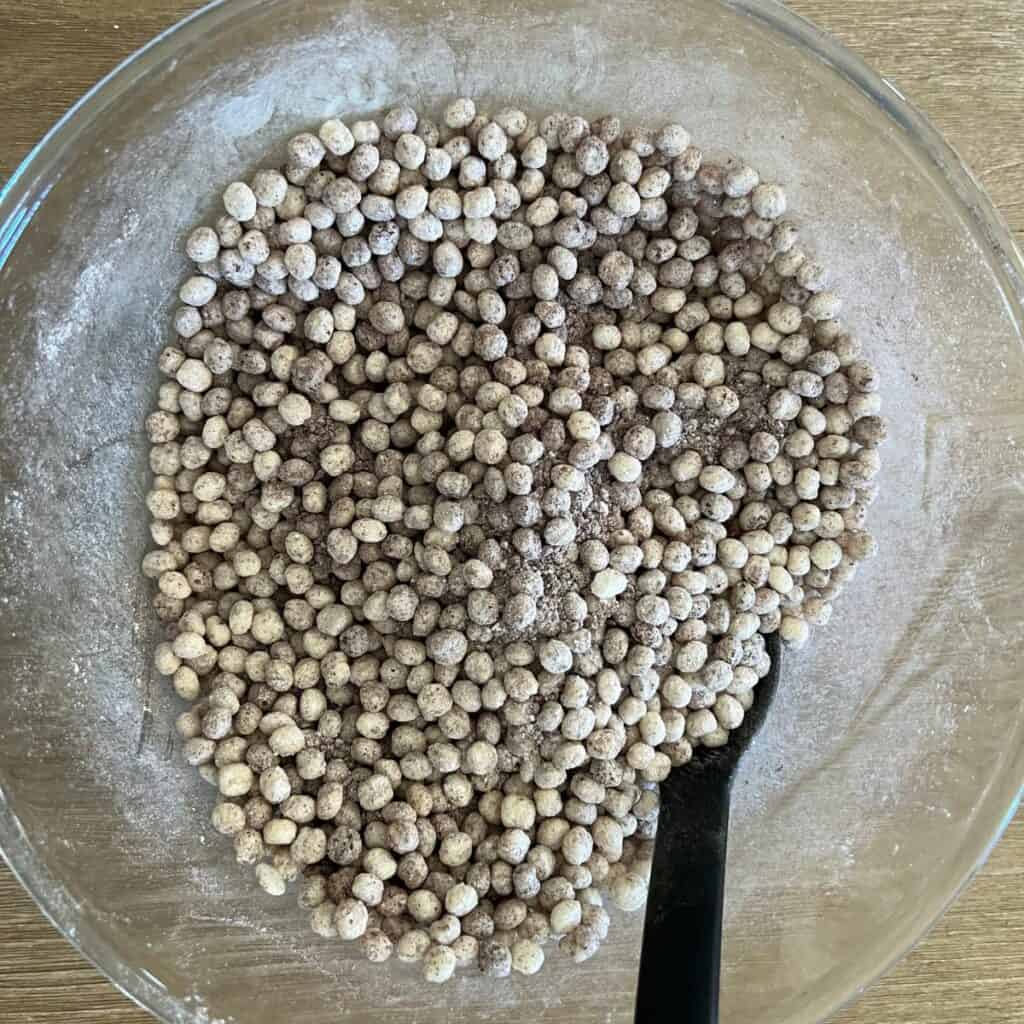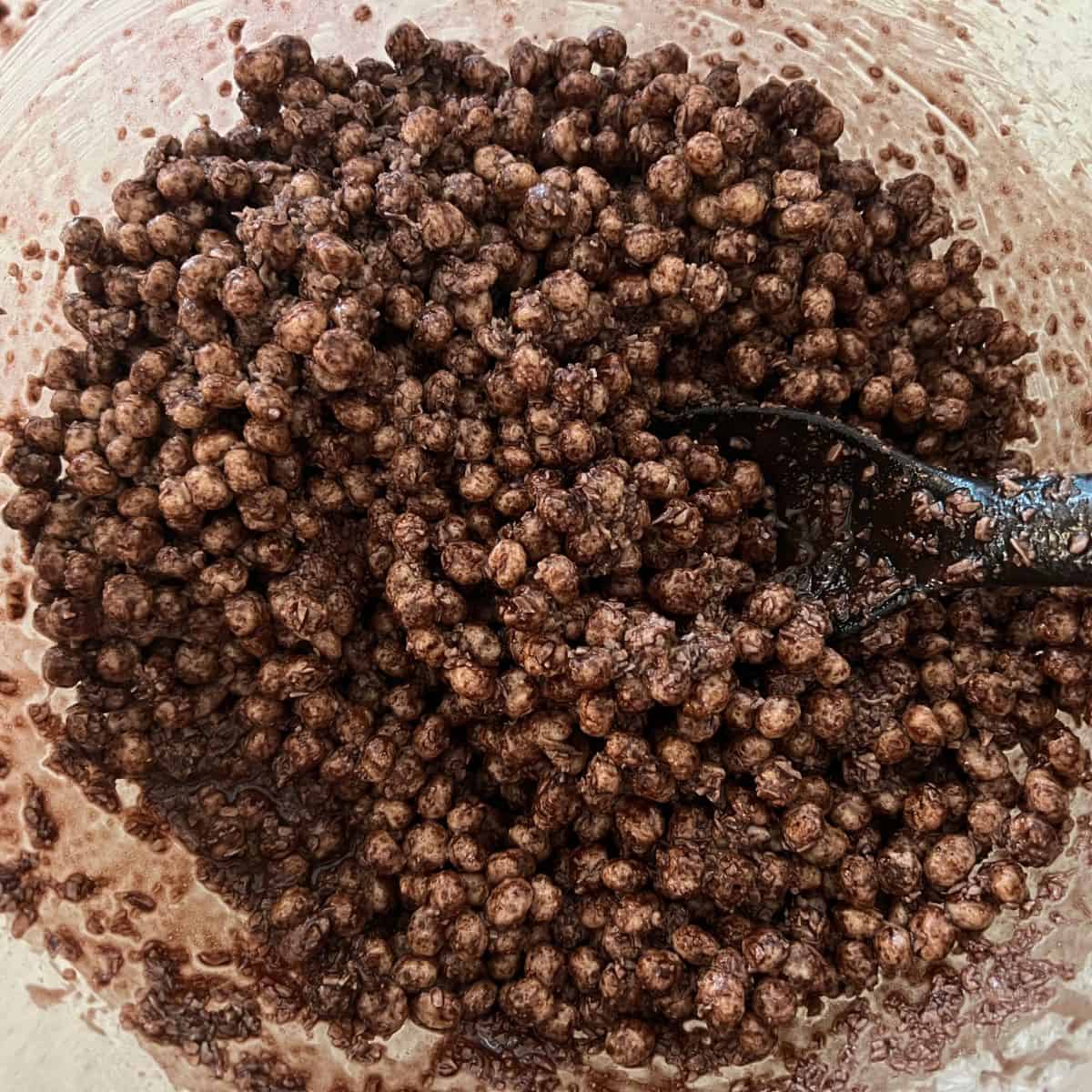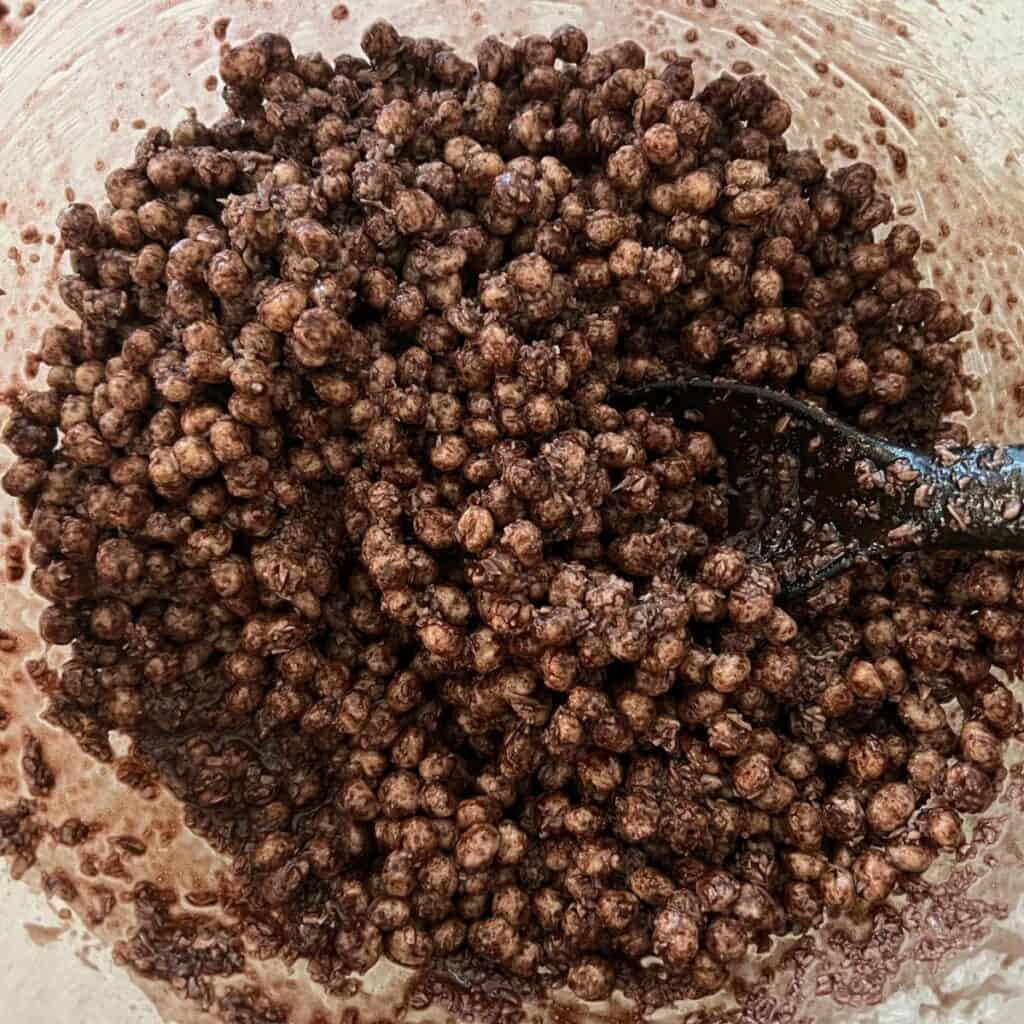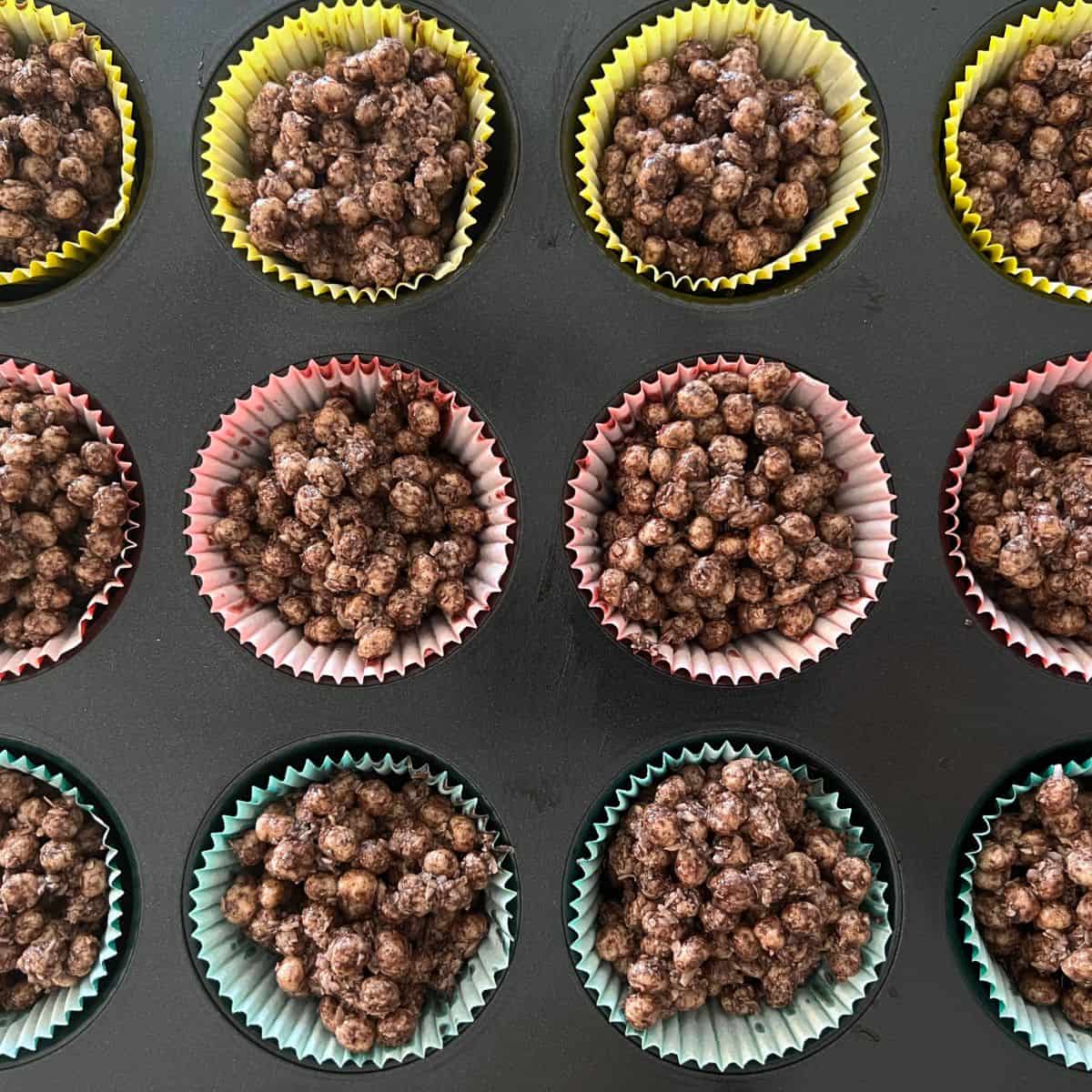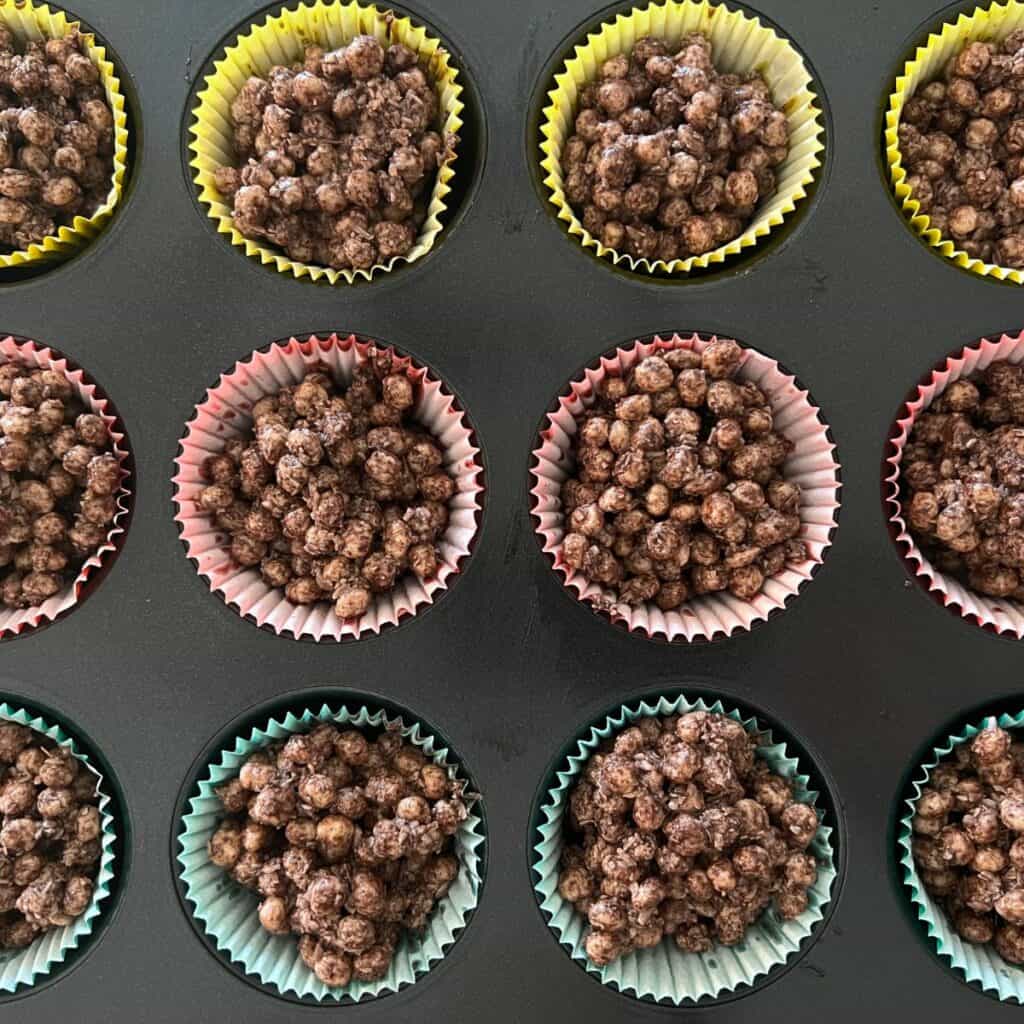 Hint: make sure that you aren't left with a pool of copha/coconut oil at the bottom of the bowl. This helps to bind and 'set' the chocolate crackles to make sure that each crackle isn't too 'dry'.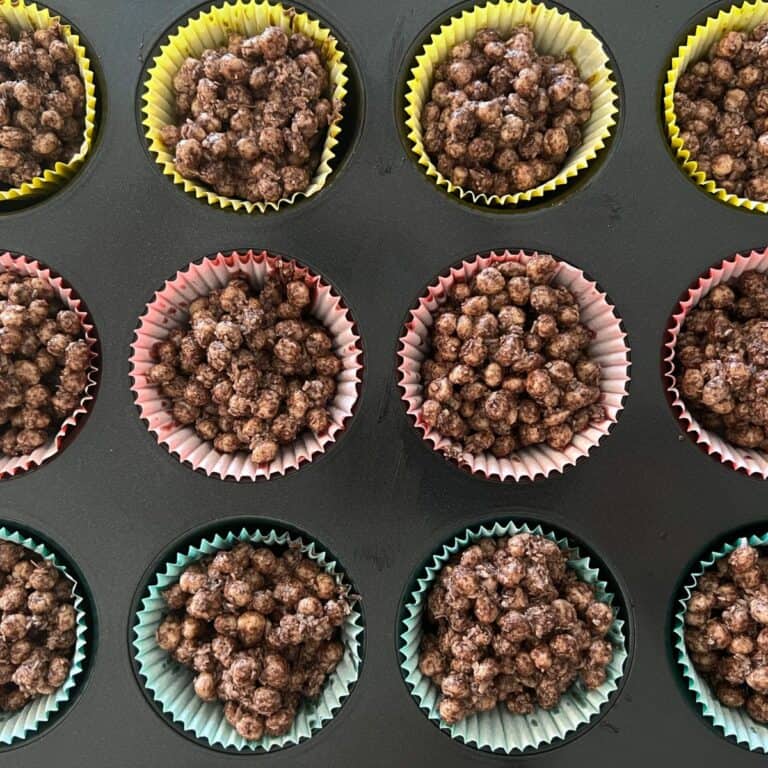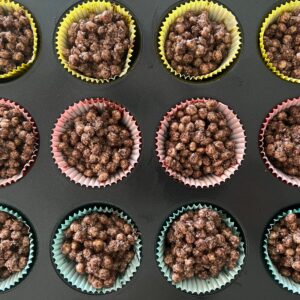 Chocolate Crackles Gluten-Free
These gluten-free chocolate crackles are always a hit with both children and adults!
Ingredients
4

cups

Gluten Free Rice Bubbles/Rice Krispies

1

cup

Icing Sugar/Powdered Sugar

1

cup

Desiccated/Grated Coconut

250

grams

Copha

*see below for variations

5

tablespoons

Cocoa Powder
Instructions
In a large mixing bowl, combine the gluten-free rice rubbles/krispies, icing sugar, coconut and cocoa together.

4 cups Gluten Free Rice Bubbles/Rice Krispies,

1 cup Desiccated/Grated Coconut,

5 tablespoons Cocoa Powder,

1 cup Icing Sugar/Powdered Sugar

Melt the Copha in a saucepan on a low heat. Add to the mixing bowl and stir all ingredients well.

Spoon the mixture into the cupcake cases and refrigerate until firm (usually 30 minutes).
Variations
Altering the recipe slightly can add a unique twist on the old-fashioned chocolate crackles:
Gluten-free Cocoa Pops - cocoa pops can be used in place of the rice bubbles/krispies but they will be extra chocolatey - in this case, you can forgo the cocoa altogether or simply add 2 tablespoons.
Deluxe - add some gluten-free chocolate buttons or sprinkles to the top of the crackles.
Storage
When stored in an airtight container in the fridge, chocolate crackles can last for up to a week.
Chocolate crackles don't freeze or thaw well.
Top tip
For smaller children, or when there are lots of treats on offer, it can be a good idea to provide both the standard cupcake size crackles and also some mini cupcake sized crackles too. This also prevents wastage at children's birthday parties when the little eyes can be bigger than the tummies 🙂
FAQ
What Can I Use Instead of Copha?
Coconut oil can be substituted for copha.

Melted copha helps to bind the ingredients together and then helps it to 'set'. It also gives an ideal crunch to the chocolate crackles, all of which can also be achieved with melted coconut oil and then allowing the recipe to set in the fridge.
Related
Looking for other recipes like this? Try these: