An old, comforting favorite, this easy tuna casserole recipe is a perfect way to fill hungry tummies, quick to pull together and it's not at all hard to make it gluten free + delicious.
The traditional recipes for tuna casseroles are a nightmare for gluten free eaters. There's not only the pasta (or noodles) to consider, but also the white sauce, creamy canned soup and breadcrumbs that can present dangers.
However, this recipe is a dream. Simple gluten-free ingredients and a little bit of preparation and you can have dinner on the table quickly. It sets really well - almost like a pasta 'slice' - and makes a great lunchtime leftover the next day.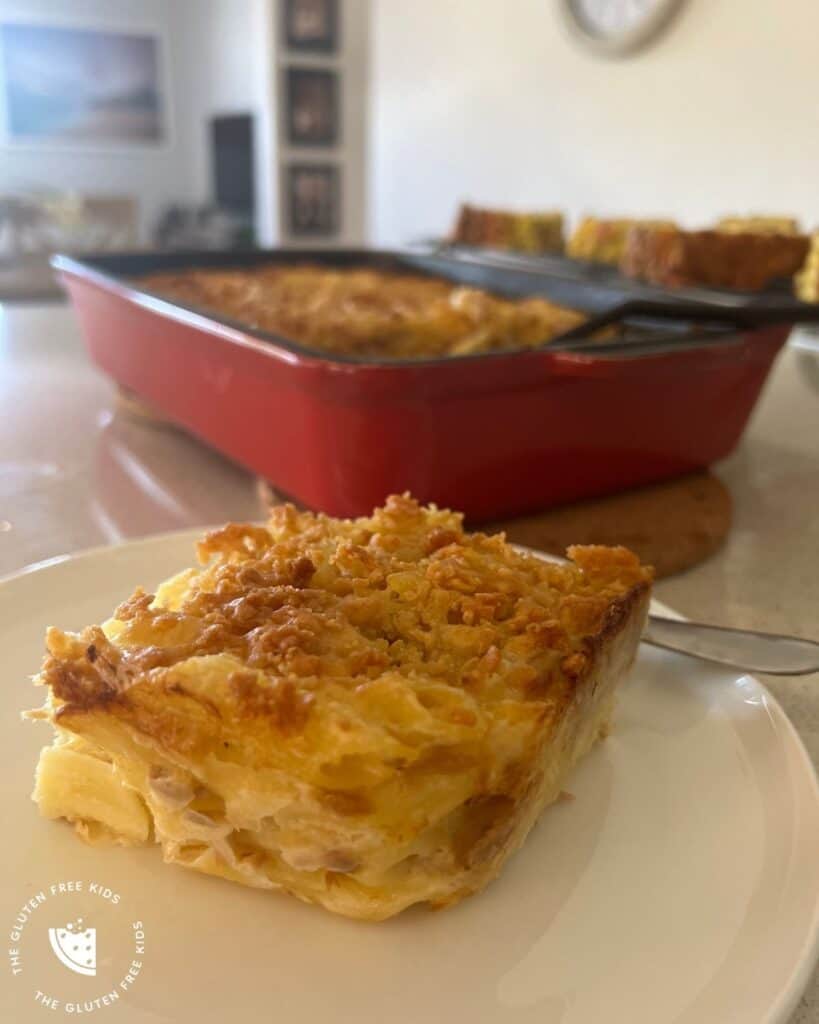 Ingredients - Gluten-Free Tuna Bake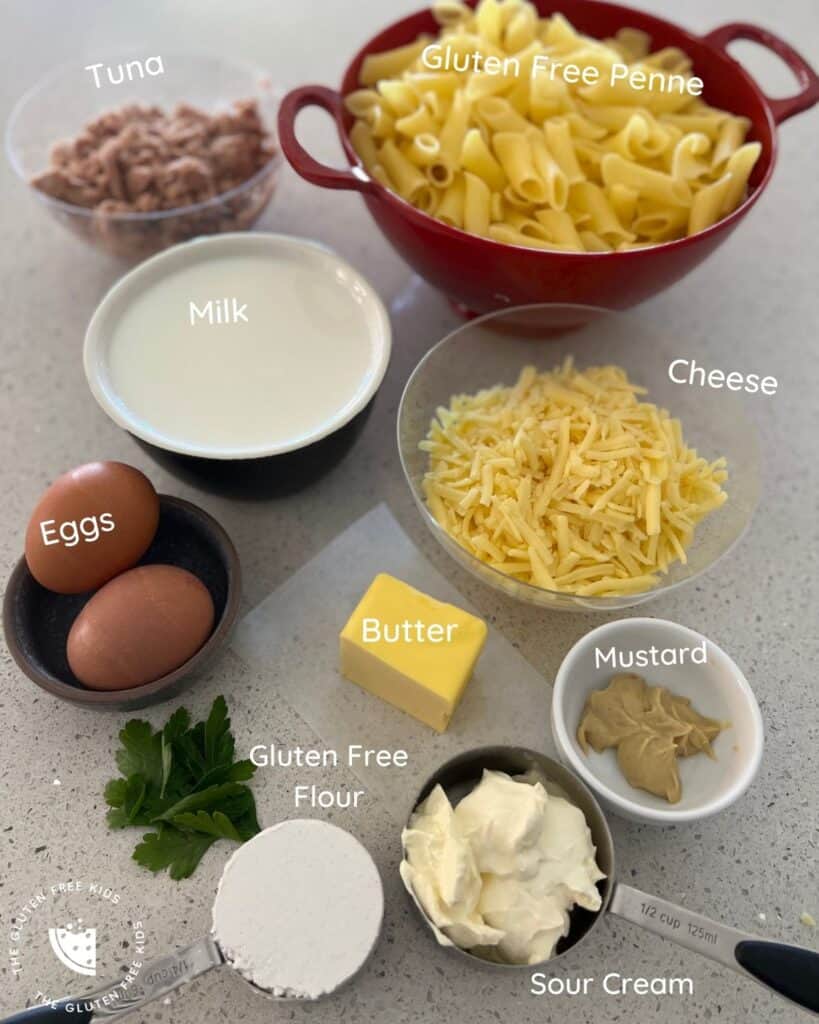 There are various ways to make a tuna casserole. This recipe is quick and requires simple ingredients. You can of course add extra flavor and spice during or afterwards (my hubby loves to add a splash of Franks Hot Sauce on top of Tuna Casserole), but here are the base ingredients you need:
Tuna: I used canned tuna in spring-water (avoid the one in oil) and be sure to drain it well.
Gluten Free White Sauce: this is a great versatile white sauce that's gluten free and adaptable. To make it you simply need gluten-free flour, butter and milk at the very least. For this recipe, we also add a little mustard (I used Dijon Mustard) and stir it in after thickening.
Gluten Free Penne: You will require some form of pasta or noodles - *most* types work well. I usually use gf penne or the gf shells as they collect and mesh with the sauce best.
Egg
Sour Cream: you can substitute this for milk, cream or plain Greek yoghurt.
Cheese (grated/shredded)
Gluten-Free breadcrumbs (homemade or store bought work equally well)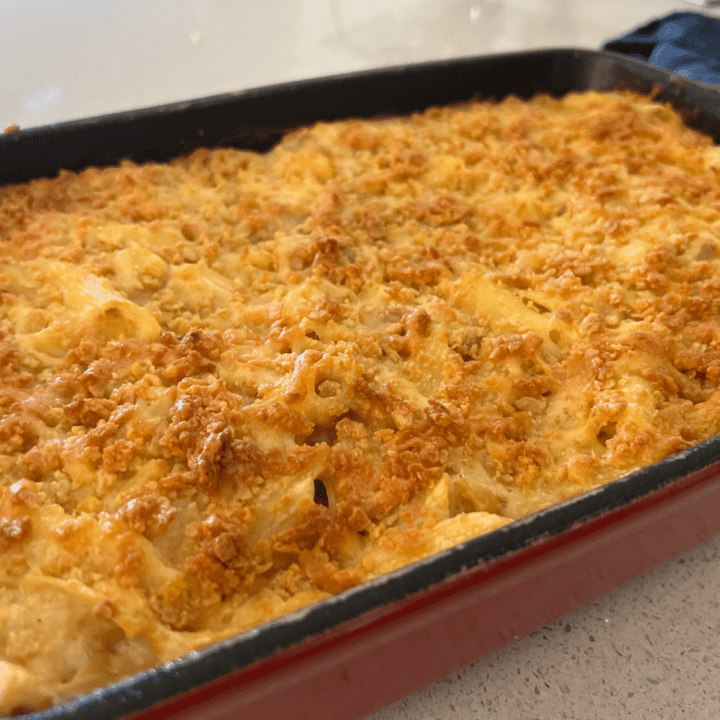 Gluten Free Tuna Casserole
This tuna casserole is part tuna mornay, part pasta bake. It's nutritious, filling and freezes well. It can be cut up into neat slices and makes a great lunch for the next day.
Ingredients
340

g

(12 oz) dried gluten free penne pasta

(I've used GF Barilla Penne here)
Gluten-Free White Sauce
60

g

(2 oz) butter

¼

cup

gluten-free flour

2

cups

milk

3

teaspoon

mustard

(I've use Dijon mustard for a mild flavor)
Tuna Casserole Mix
425

g

(15 oz) can tuna (drained)

2

eggs

½

cup

sour cream

1

cup

cheese (shredded/grated)
Breadcrumb Topping
20

g

(1 oz) butter

½

cup

cheese (shredded/grated)

½

cup

gluten-free breadcrumbs

(panko style work well)
Instructions
Preheat the oven to 180C/350F and lightly grease a rectangular oven pan (lasagne dishes work well).

Cook the gf penne in a large saucepan of salted boiling water following the directions on the box to achieve 'al dente'. Don't overcook it! Drain and set aside.
Gluten-Free White Sauce
Melt butter in a saucepan over a medium heat. Add the gluten-free flour and stir to a smooth paste.

Slowly add the milk and keep stirring until the mixture boils and thickens.

Remove the white sauce from heat and gently mix in the mustard. Set aside to cool slightly.
Tuna Casserole Mix
Whisk the eggs and sour cream together in a large bowl.

Add the gf white sauce mixture and stir together until well combined.

Mix in the cup of cheese and the drained tuna. Season with salt and pepper to taste.

Pour in the cooked pasta and stir to combine.

Spread the mixture into the prepared pan and smooth the surface over.
Breadcrumb Topping
Melt the 20g(1 oz) butter in the microwave, then add the ½ cup cheese and breadcrumbs and mix together.

Scatter evenly over the tuna casserole surface.

Bake in the oven for 30 minutes, or until set and golden on top.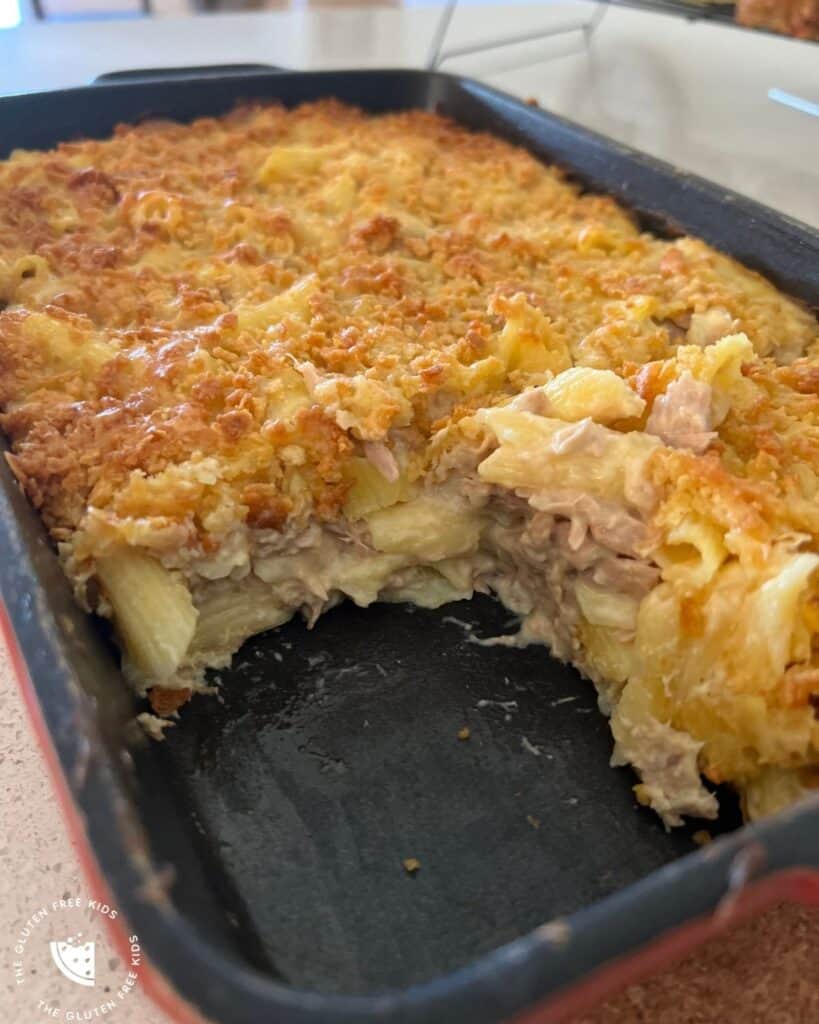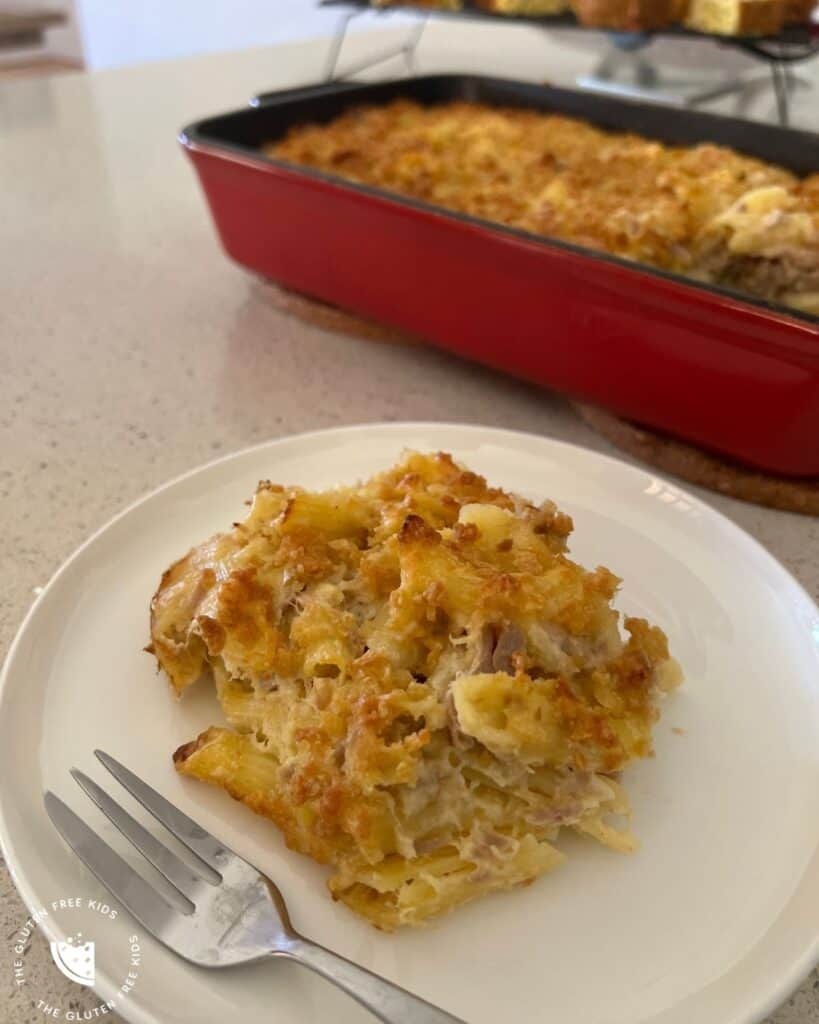 Dinner is served! Enjoy.
For more simple gluten-free meals the family will love, be sure to check out:
Did you try this recipe?
Let us know in the comments!