Cornmeal Sugar Cookies (Yep Gluten Free!)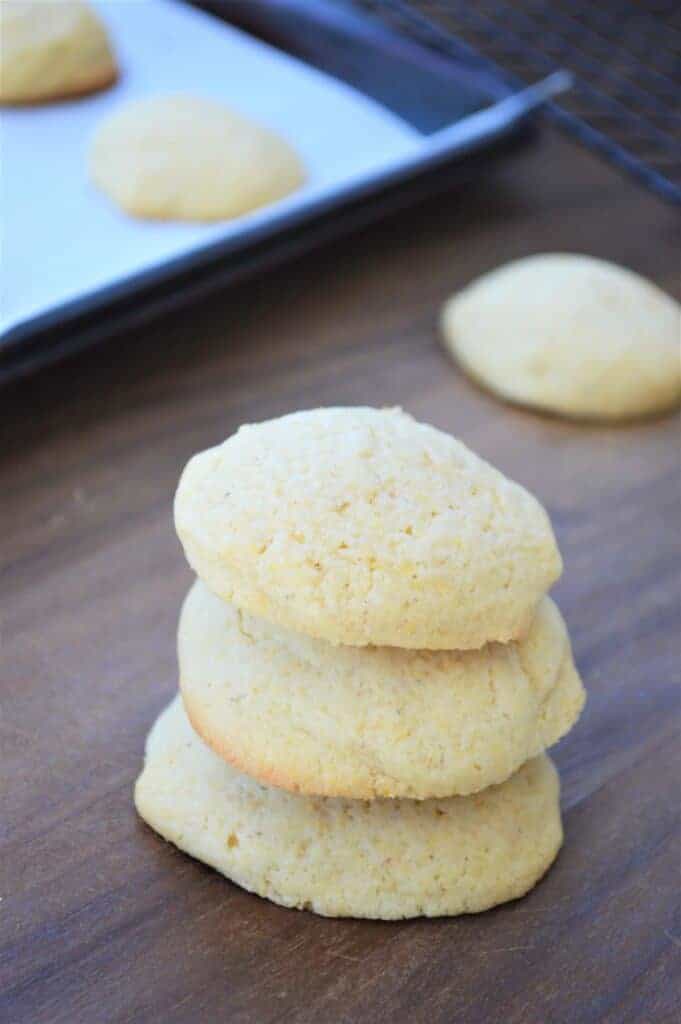 Cornmeal Sugar Cookies are a gluten free sugar cookie that are soft and fluffy! These cornmeal sugar cookies are a bit unique, but oh so delicious.
If you've not tried cornmeal sugar cookies yet, don't discount them yet, because this recipe is a must make.
They are so versatile too. Serve these cookies plain, or add your favorite frosting on top. Or dust with some sugar or sprinkles. You can make these cornmeal cookies all year round. My kids even love these plain.
Plus, they are a great, cheaper (and less processed) version of store bought gluten free cookies.
Gluten Free Sugar Cookies
The cornmeal adds a flavorful grainy flavor to these delicate sugar cookies. I make these a lot for a weekday snack, put them in lunches for school, an after school snack and they also make a great gluten free gift in a jar.
They also are a fantastic gluten-free cookie swap option if you are taking part in any and need to be aware of dietary requirements for others.
I know the thought of cornmeal in a flour seems weird, but just have a little trust. These cookies are one of a kind and you will never look back once you make them.
What Gluten Free Flour To Use For Sugar Cookies
I used a gluten free flour blend, but you are welcome to buy your favorite brand. Or if you prefer to make your own gluten free flour blend go right ahead.
I have found when you use just plain almond flour or even coconut flour the cookies don't gain the right texture you want. But a blend of flour seems to be the best option.
How to Make Cornmeal Sugar Cookies
All you have to do is to start by mixing your flour mix, cornmeal in salt in a bowl. Give it a stir until it is incorporated. Now, in another bowl, you will add all your wet ingredients in a bowl. Then slowly combined the wet and dry together.
Now roll your cookies into a ball and place on your cookie sheet and bake as directed.
How to Store Sugar Cookies
Once your cookies are fully cooled, you can easily place them in an airtight container and store on the counter at room temperature. Or if you prefer, toss your cookies in the fridge.
Either way, these cookies will store for a few days before they begin to dry out.
Can You Freeze These Gluten Free Cookies?
Yes, you can freeze these cornmeal sugar cookies. Just allow the cookies to fully cool. Then place in an airtight bag or freezer airtight container. If you plan to stack the cookies, you can use a layer of parchment or wax paper in between. This will help prevent the cookies from sticking together.
Then you can pull a couple out to thaw on the counter for a quick dessert, or place in the fridge the night before for a slower thaw.
Let's start with the simple ingredients: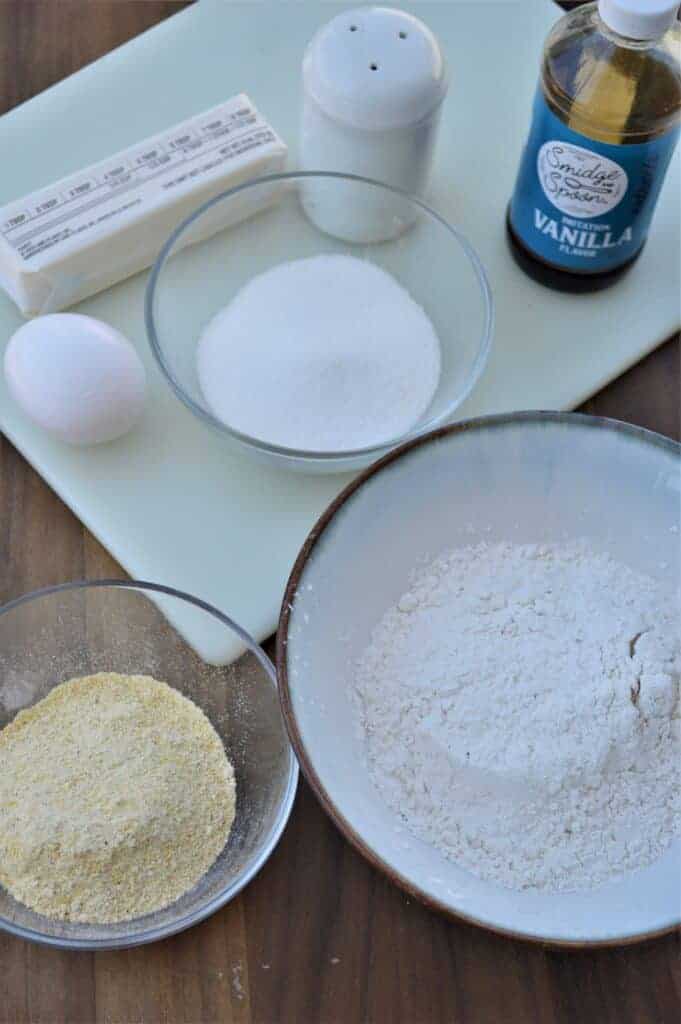 Gluten Free Sugar Cookies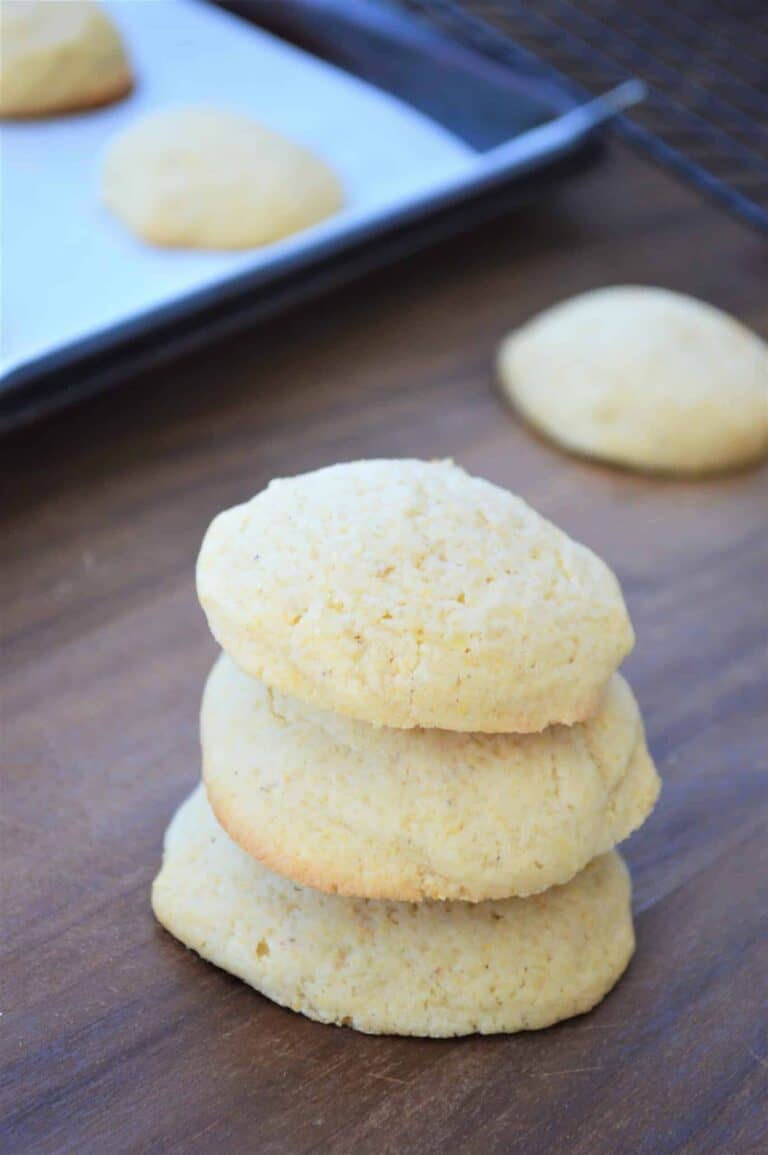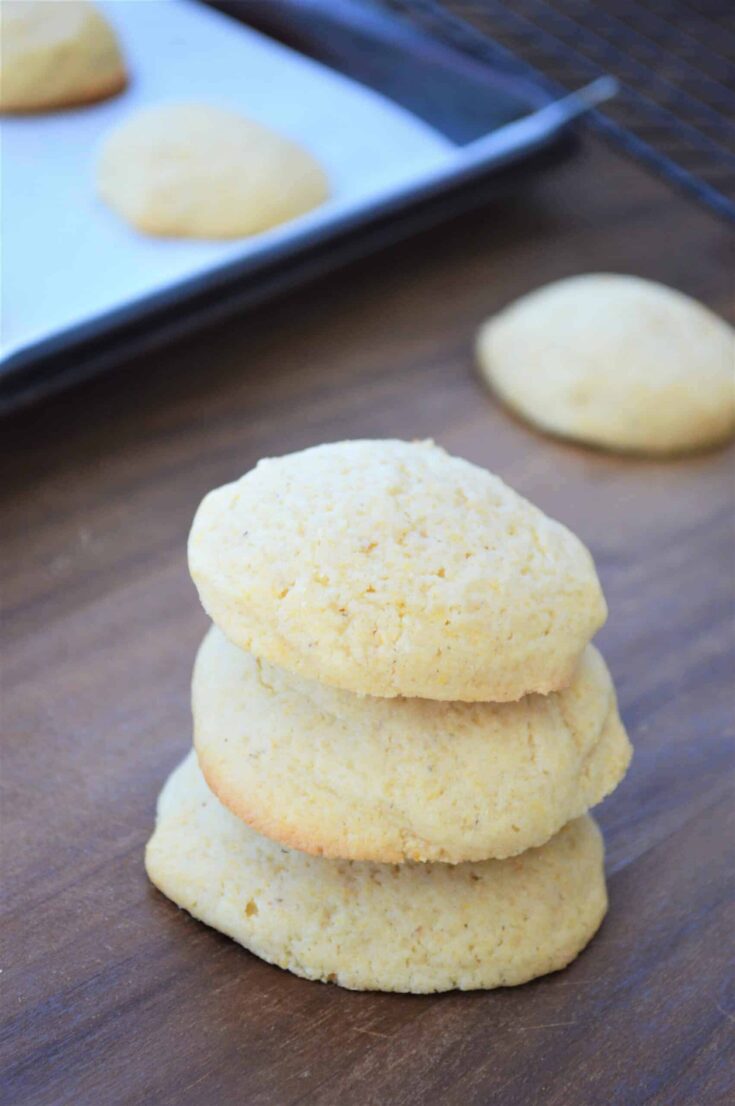 Ingredients
1 cup gluten free flour
½ cup cornmeal (self-rising mix)
¼ teaspoon salt
½ cup butter- softened
½ cup sugar
1 egg
1 teaspoon vanilla extract
Instructions
Preheat the oven to 350 degrees F (or 180C).
Combine gluten free flour, cornmeal and salt.
In a separate bowl, mix together butter, sugar, egg and vanilla extract.
Slowly combine wet and dry ingredients. Roll into small balls. Place on a prepared baking sheet. (I used parchment paper).
Bake for approximately 12-14 minutes. Remove and let cool. (I prefer to cool on a cooling rack).
How to Make Gluten Free Sugar Cookies - Step By Step Photos
Start by combining the dry ingredients first, with 1 cup of gf flour, ½ cup of cornmeal and a ¼ teaspoon of salt: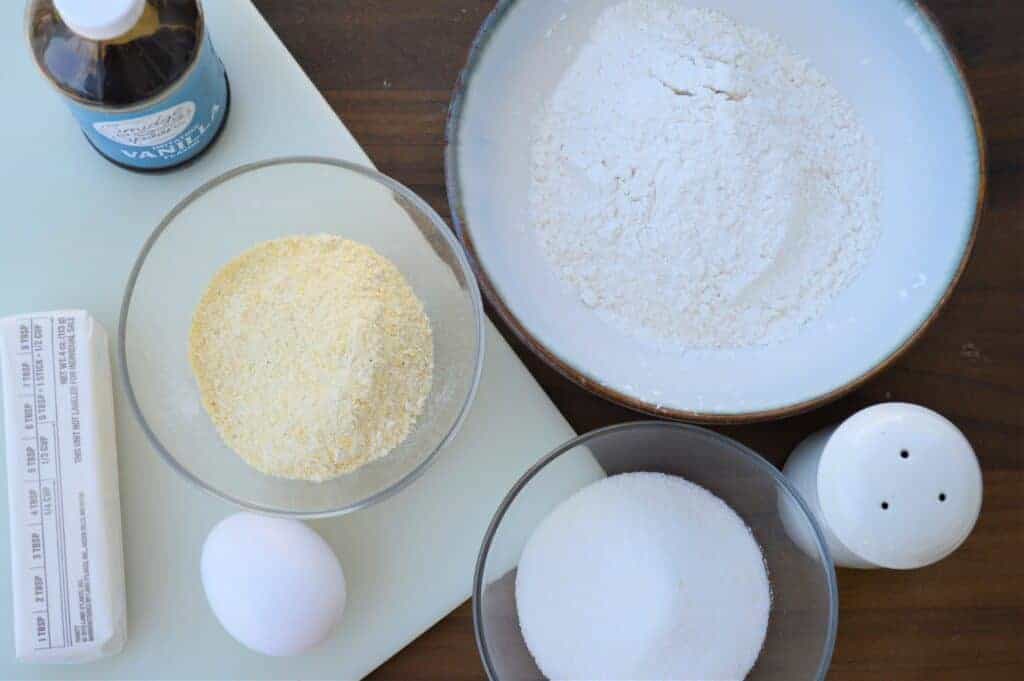 In a separate bowl, mix together ½ cup of softened butter, ½ cup of sugar, 1 egg and 1 teaspoon of vanilla extract.
Then slowly combine both the wet and dry ingredients: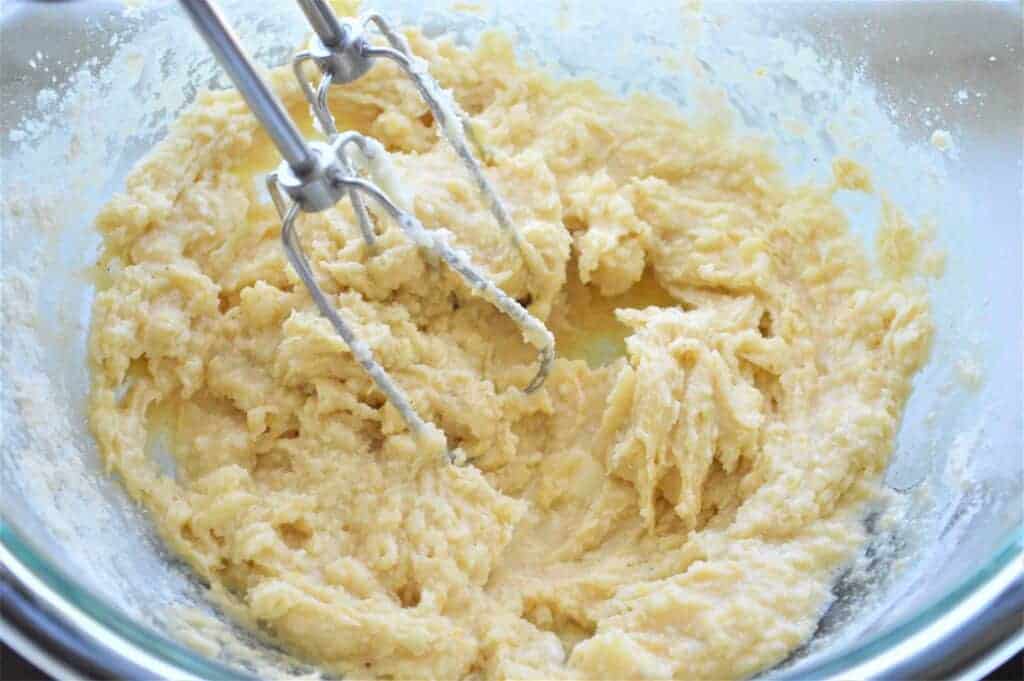 Roll into small balls and place on a prepared baking sheet. (I used parchment paper):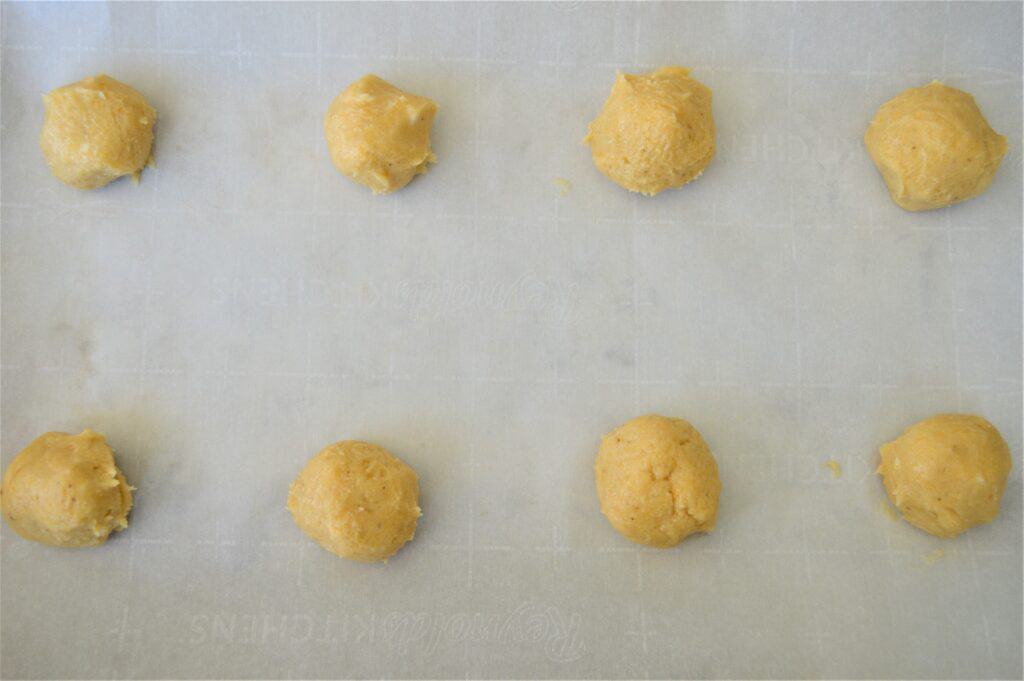 Bake for approximately 12-14 minutes (you don't need to wait for these to brown on top too much: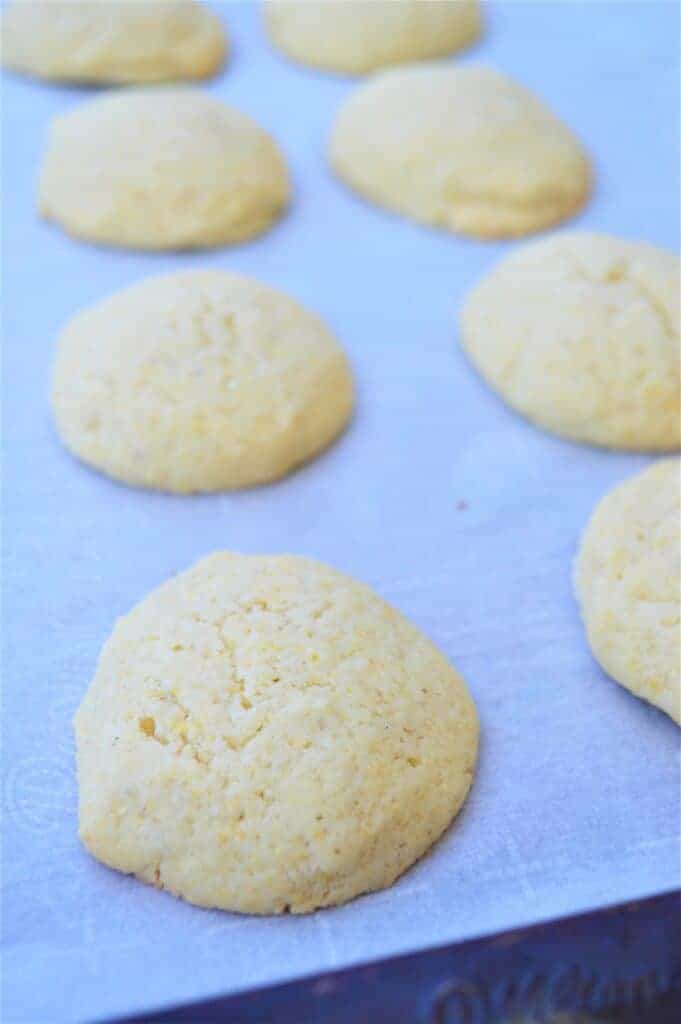 Remove and let cool, preferably on a cooling rack before adding any toppings, but remember, they are great just on their own!: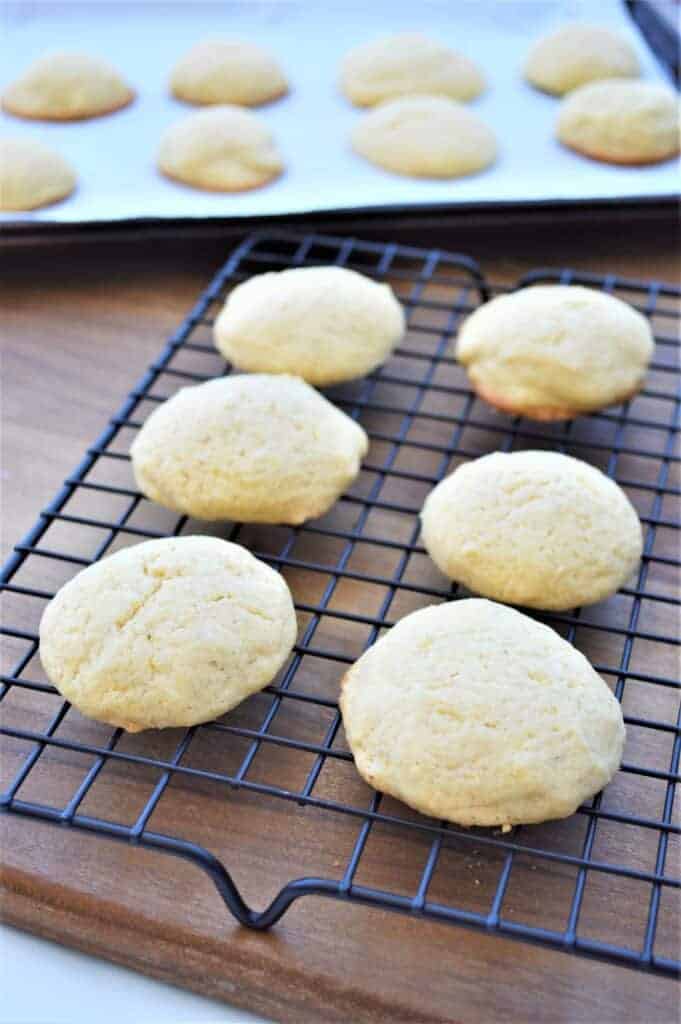 Frosting Cornmeal Sugar Cookies
You can easily add your favorite frosting on top. Whether it is a store-bought frosting or homemade frosting. You might love a buttercream frosting, a classic Lofthouse style frosting, or cream cheese frosting.