Gluten Free Onion Bagels
Whip up these Gluten Free Bagels for an instant crowd pleaser. The recipe requires no yeast so the prep for these delicious bagels is a breeze. A simple almond flour based bagel (also Keto) that is onion flavored - unless you have another flavor in mind?
Toast these bagels and spread with cream cheese for a savory snack or slice and use the bagel as bread in a sandwich. There is no wrong way to eat these easy gluten free bagels.
Nothing beats a warm fresh out of the oven bagel. Once you let them cool down a little then slice and serve up these bagels. Just like fresh donuts, these bagels are insanely good! Eat plain or toast, it is up to you.
You can even make these amazing Pizza Bagels: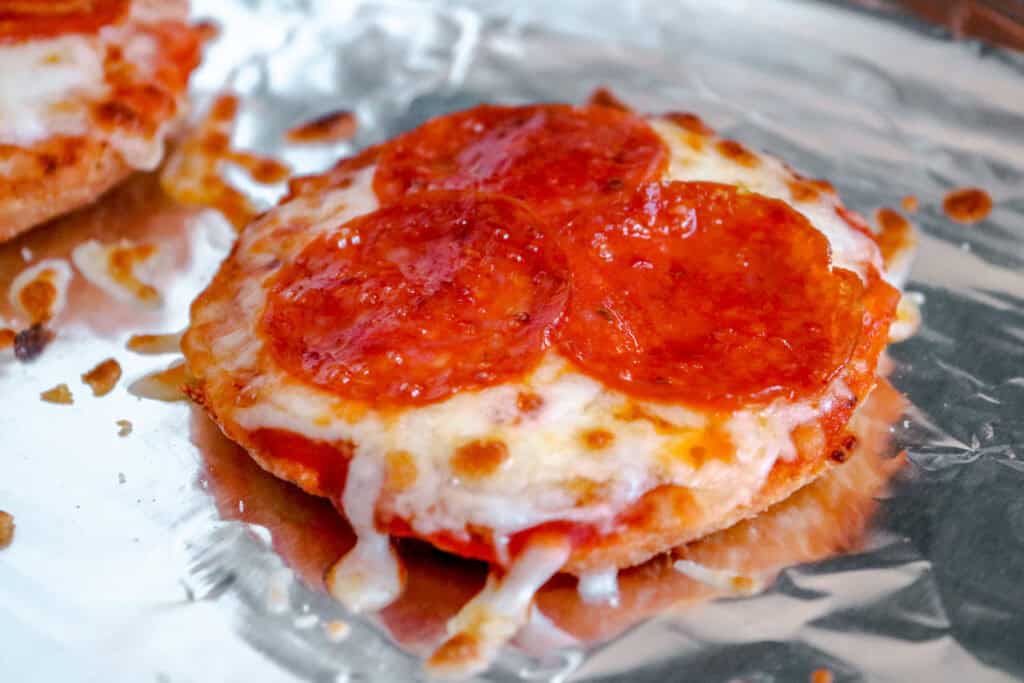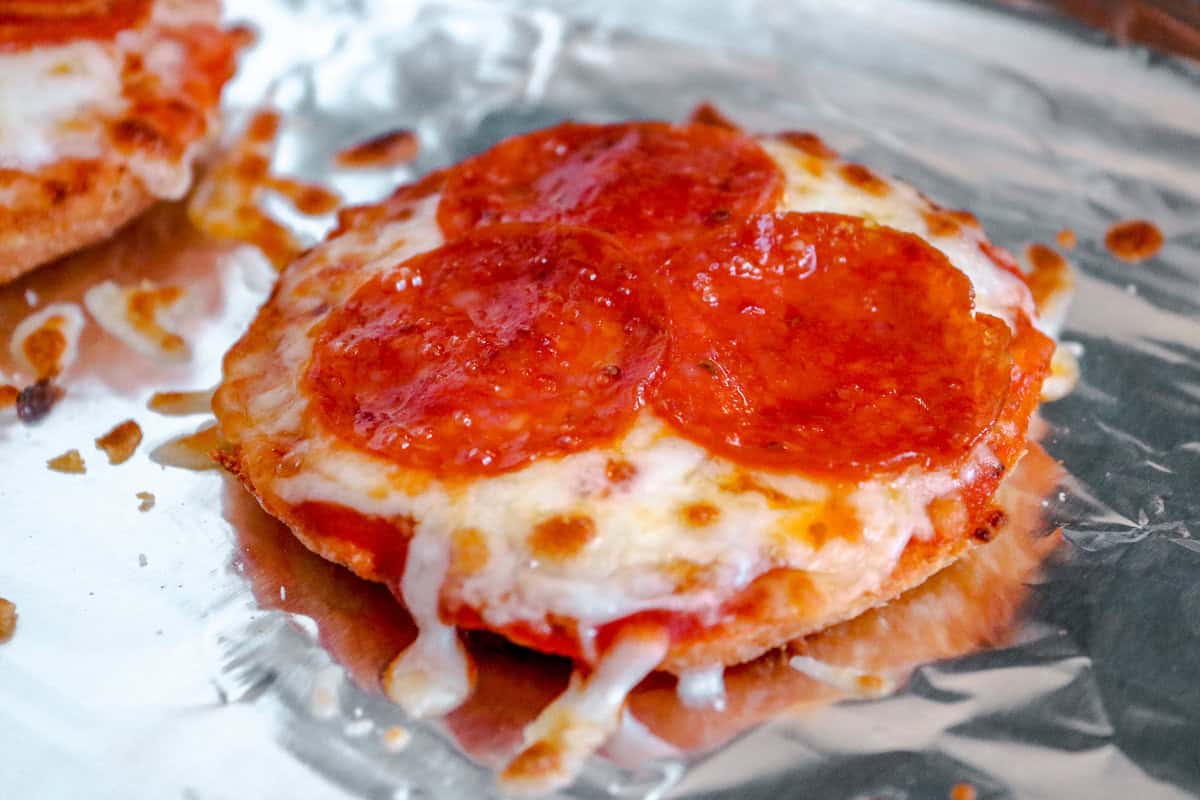 What Flour Do You Use For Gluten Free Bagels
I reached for an almond flour for these bagels. I pair with the melted mozzarella and it works great at bringing in a nice texture of the bagels. If you don't have almond flour you could try to swap with a gluten free flour blend if you feel like trying. It should work but since I have only used almond flour, I can't fully vouch for the texture.
Can I Double This Recipe
Yes, you can easily double the bagel recipe. If you plan to serve your whole family and need more, go right ahead. Just make sure to work the dough the same way.
Or you might want to freeze a few of these bagels for later on. This is a great recipe to make and allow cool and then freeze for later. So when you get a bread craving or want to whip up a quick breakfast you can do it just by tossing in the microwave for a quick thaw. I tend to just toss a sliced bagel in the toaster.
Do You Drop Bagels in Boiling Water Before Baking
No, you don't drop in boiling water like some bagel recipes. This bagel recipe is so simple to make. Form the dough, shape, and bake your bagels as directed in the recipe card below!
Some recipes have you dip in boiling water before baking to get that chewy crust as you expect out of a bagel. This recipe doesn't require that step which speeds it up.
Variations On Flavor Of Bagels
Now, these are an onion bagel. I use onions flakes and powder to give them a nice savory flavor. It's also super easy to change up the flavor to fit what you might have in mind.
Grab some everything bagel seasoning to sprinkle on top. Or opt for some cheese to sprinkle on top when they are close to done being cooked. Then lightly get it melted and browned for another twist to the bagel. 
Check out these mini gluten free pizzas made from leftover bagels.
You could even do a sweet twist. By adding in a handful of berries like blueberries, a sprinkle of cinnamon and sugar, etc.
Gluten Free (And Keto) Bagels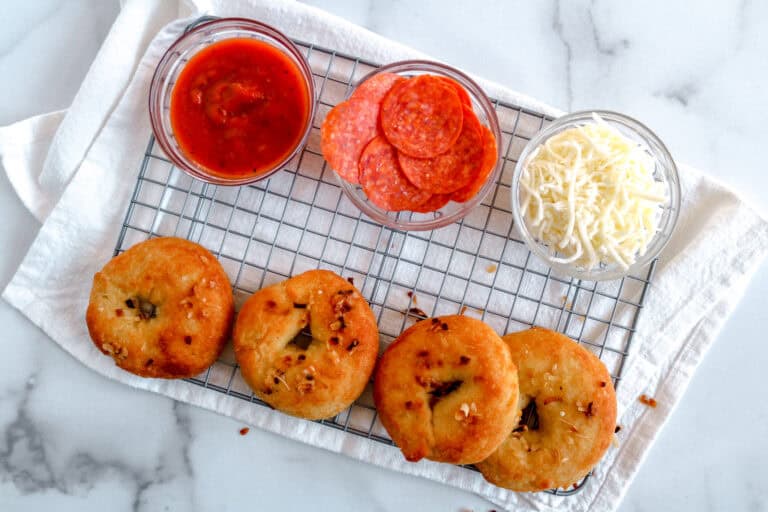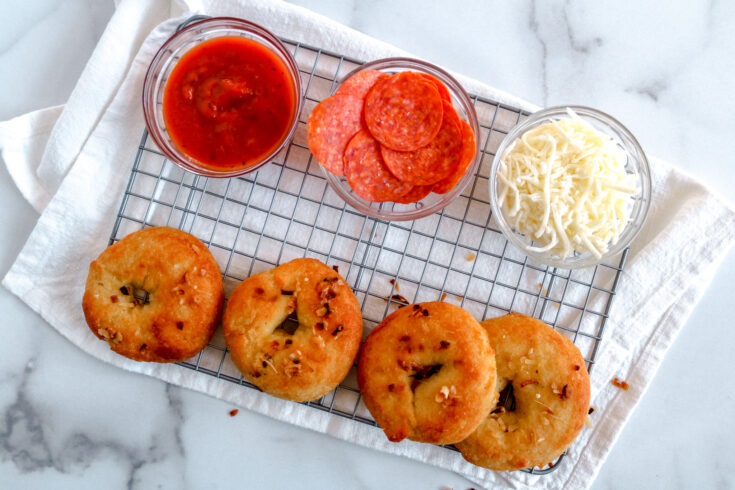 Additional Time
15 minutes
Ingredients
1 cup almond flour
1 ⅕ cups mozzarella cheese (freshly grated or bag is fine)
1 egg
2 tablespoons of cream cheese
½ tablespoon of olive oil
1.5 teaspoons of baking powder
1 teaspoon of onion powder
1 tablespoon of onion flakes
Instructions
1. Preheat oven to 375F and prepare a sheet pan or baking sheet with parchment paper.
2. Combine the almond flour, baking powder, and onion powder and mix well.
3. Add mozzarella and cream cheese to the bowl and microwave in 45 second increments until the cheese is completed melted and forms a ball of dough. Should go through 2 cycles.
4. Add the egg to the bowl and vigorously mix it or use your hands, just make sure the egg is fully incorporated into your dough.
5. You will want to make four balls of dough. Roll them each into a ball and gently push a finger through the center to make a nickel sized hole. Place on parchment paper and repeat on the other three bagels. Make sure the bagels are two inches apart.
6. Use the olive oil and brush the bagels on top and top with onion flakes.
7. Bake for 15-20 minutes, until a nice golden brown forms on top.
8. Let cool for 10-15 minutes
Enjoy!